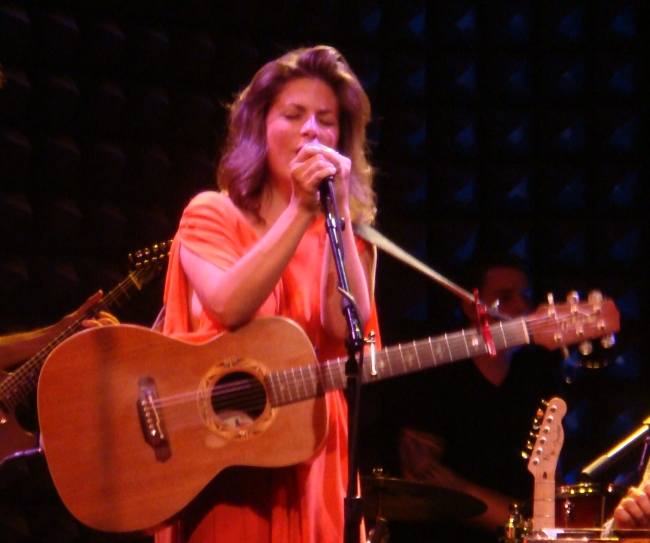 [Photos by Johnny]
We seem to be in the right place at the right time when it comes to Kelli Scarr.  The last time she appeared on the NYCtaper website, Kelli had just released her debut album 'Piece'.  Nearly two years later and we were fortunate to catch the release show at Joe's Pub for her sophomore disc, 'Dangling Teeth'.  Backing her amazing voice, she had a good number of her group from the Backyard Brunch Session on hand including pianist/vocalist Jo Schornikow, pedal steel player extraordinaire Jonathan Lam, bassist Andrew Southern, flugelhorn player Dan Brantigan, guitarist Scott Metzger, drummer Taylor Floreth, violinist Claudia Chopek and cellist Eleanor Norton.  The set consisted of all the tracks from the wonderful new record and Kelli led her incredible band through the different flavors on it, from rock-tinged country to sultry-voiced chanteuse.  Combining that with the very appreciative crowd and it made for a pretty exceptional evening.  Kelli Scarr is now on tour through the beginning of August.  If she's playing near you, make a concerted effort to catch her show.  You won't be disappointed.
On this night, acidjack and I were able to set up nearly dead-center in the terrific sounding Joe's Pub and we couldn't have asked for a better location.  This recording is the maiden voyage of my Milab VM-44 Link microphones and the results are excellent.  We hope you like what you hear as much as we did.  Enjoy!
Special thanks to Kelli Scarr and Joe Rogers at Silence Breaks for making this recording possible, and to the staff at Joe's Pub for their courtesy and cooperation.
For Kevvie.
Stream "You Could Be So Great":
[audio:http://nyctaper.com/K2180KelliScarr1020/Kelli_Scarr_-_You_Could_Be_So_Great.mp3]
Direct download of the complete show in MP3 [HERE]
Direct download of the complete show in FLAC [HERE]

If either of the links are not working, email nyctaper with a request for the download location of the files.
Follow Johnny Fried Chicken Boy on Twitter
Note: All of the material on this site is offered with artist permission, free to fans, at our expense.  The only thing we ask is that you download the material directly from this site, rather than re-posting the direct links or the files on other sites without our permission.  Please respect our request.
Kelli Scarr
Tuesday, June 5, 2012
Joe's Pub
New York, NY, USA
Source: AUD > Milab VM-44 Links (cardioid) > Edirol R-44 (WAV @ 24-bit/48kHz)
Lineage: R-44 > PC > Adobe Audition (mixdown, downsample, dither, tracking) > WAV (16-bit/44.1kHz) > TLH (check/fix SBE's, FLAC conversion) > FLAC ( level 8 )
Recorded and produced by: Johnny Fried Chicken Boy
TRACKLIST:
[Total time: 51:06]
01. Dangling Teeth
02. You Could Be So Great
03. Our Joy
04. Thank You
05. Phoenicia
06. Airon
07. Trouble
08. It Ain't Me
09. 400 Days
10. I'll Always Wait
If you download this recording, we expect that you will PLEASE SUPPORT Kelli Scarr and her bandmates, go see her shows, visit her website, Facebook and MySpace pages, and purchase official releases and merchandise [HERE].