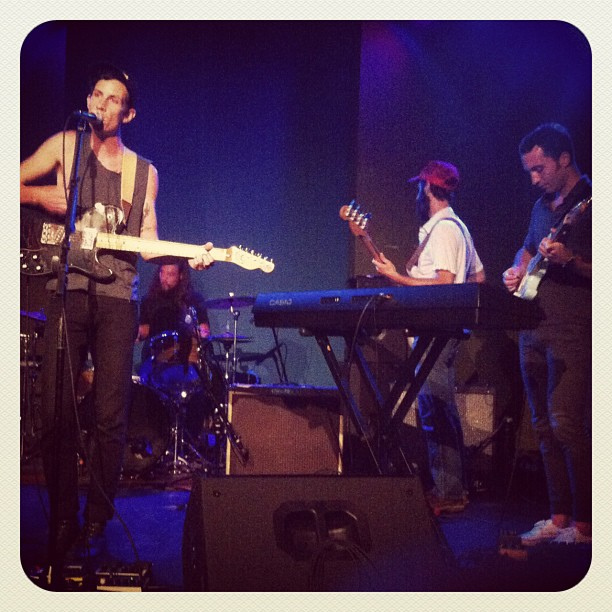 [Photo by Ross Grady]
One of the many pleasures of heading down to Raleigh, NC for this year's Hopscotch Music Festival was the chance to see regional bands that aren't as readily available to see in New York. The Human Eyes were touted to me early on as a local favorite, and I can see why. At this DiggUp tapes day show at King's in downtown Raleigh, the band gave a crowd of current fans and newcomers like me a 40-minute set consisting of much of their still-fresh May 2012 debut release, Guiding Eyes for the Blind.  With shimmering guitars and a dream pop  sensibility to their sound, the band was instantly approachable. After leading off with the uptempo "Born To Die", I appreciated the band's willingness to slow the pace a few songs later with the lovestruck "I Am Gone". Similarly, the melancholy "Let Me In" was the right way to cue up the biggest, catchiest rocker of the set, "It's Not the Same Without You". This Chapel Hill, NC band is still in its infancy, but based on the enthusiasm I heard from local fans, I think we may be seeing more of them outside of their home region.
I recorded this set with a soundboard feed from the excellent King's staff and a pair of AKG 460 cardiod microphones installed by the local taper Bryon S. The sound is excellent. Enjoy!
Stream "It's Not the Same Without You"

Direct download of MP3 files [HERE] | Direct download of FLAC files [HERE]
If the FLAC link is no longer working, email nyctaper for the FLAC files
Check out all of NYCTaper's Hopscotch Festival recordings
Follow acidjack on twitter
Note: All of the material on this site is offered with artist permission, free to fans, at our expense. The only thing we ask is that you download the material directly from this site, rather than re-posting the direct links or the files on other sites without our permission. Please respect our request.
The Human Eyes
2012-09-06
Hopscotch Festival Day Show
King's
Raleigh, NC USA
Recorded and produced by acidjack
Microphones courtesy of Bryon S
Soundboard + AKG 460/ck61>Edirol R-44 [OCM]>>2x24bit/48kHz WAV>Adobe Audition CS 5.5 (adjust levels, mix down)>Audacity 3.0 (set fades, tracking, amplify, balance)>FLAC ( level 8 )
Tracks
01 Born To Die [fades in]
02 Locked In the Mall
03 Another World
04 I Am Gone
05 Forever Sleep
06 [banter]
07 Human Eyes
08 Let Me In
09 It's Not the Same Without You
10 Call Me Back
If you enjoyed this recording, PLEASE SUPPORT The Human Eyes by liking them on Facebook and visiting their bandcamp page, where you can buy Guiding Eyes for the Blind for $5 on digital or cassette (+ download code)