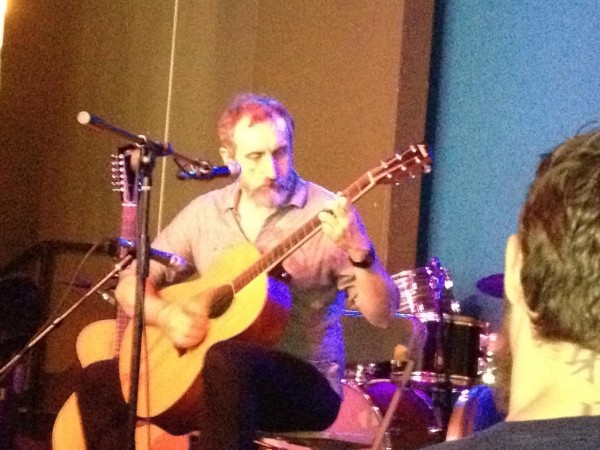 [Photo by Paul Spanbauer from the Three Lobed/WXDU Day Show Facebook Page]
One of the pillars of the Three Lobed Recordings catalog has been some of the incredible new American guitar music being made across this country – everything from work by the late Jack Rose to Lee Ranaldo and Steve Gunn. The Oakland (but formerly North Carolina) guitarist Chuck Johnson developed his main Three Lobed connection through the Chapel Hill, North Carolina band Idyll Swords, when they appeared on an ambitious multi-CD box set, purposeful availment, that was among the label's first releases. While his latest record, A Struggle Not A Thought, finds Johnson engaging with his thoughtful meditative side with some stunning 12-string guitar compositions, Johnson was a well-known traveler in Chapel Hill's still-vital 90s-to-early 2000s indie rock scene, playing in the bands Shark Quest and Spatula as well as Idyll Swords. Johnson was the second act of the day at the Three Lobed / WXDU Day Show during the Hopscotch Festival in Raleigh, NC, and provided a rather stark counterpoint to the madness of the Alan Bishop / Bill Orcutt / Chris Corsano trio that preceded him to kick off this incredible show at King's Barcade. This lovely set of guitar music featured several new songs, as well as "A Slender Thread", "Dissevered" and the flawless set closer, "The Flying Spire Don't Have No Mercy" from A Struggle Not A Thought.  While Johnson got hit with a few random bursts of the feedback from PA (which we have edited out of this recording), the technical snafu didn't throw him off his game in what was, for many of us, our first introduction to his live show. I hope to see many more.
I recorded this set with a soundboard feed and Schoeps MK5 microphones in the omnidirectional setting on stage. This particular set leans almost entirely on the soundboard feed, and other than the aforementioned technical issues being edited out, the quality is excellent. Enjoy!
Stream "Across White Oak Mountain"

Direct download of MP3 files [HERE] | Direct download of FLAC files [HERE]
If the FLAC link is no longer working, email nyctaper for the FLAC files
Check out all of NYCTaper's Hopscotch Festival recordings
Follow acidjack on twitter
Note: All of the material on this site is offered with artist permission, free to fans, at our expense. The only thing we ask is that you download the material directly from this site, rather than re-posting the direct links or the files on other sites without our permission. Please respect our request.
Chuck Johnson
2012-09-07
Three Lobed/WXDU Day Show
King's
Raleigh, NC USA
Exclusive download hosted at nyctaper.com
Recorded and produced by acidjack
Soundboard + Schoeps MK5 (omni, onstage, split)>KC5>CMC6>>Edirol R-44 [OCM]>2x24bit/48kHz WAV>Audition CS 5.5 (mixdown)>Izotope Ozone 5 (light EQ and tube effects)>Audacity 3.0 (eliminate static spots, set fades, tracking, amplify, balance, downsample)>FLAC ( level 8 )
Tracks
01 [intro]
02 On A Slow Passing In Ghost Town
03 Across White Oak Mountain
04 [tuning]
05 A Slender Thread/Dissevered
06 The Flying Spire Don't Have No Mercy
If you enjoyed this recording, PLEASE SUPPORT Chuck Johnson, visit his website, and purchase A Struggle Not a Thought from Strange Attractors Audio House [HERE]