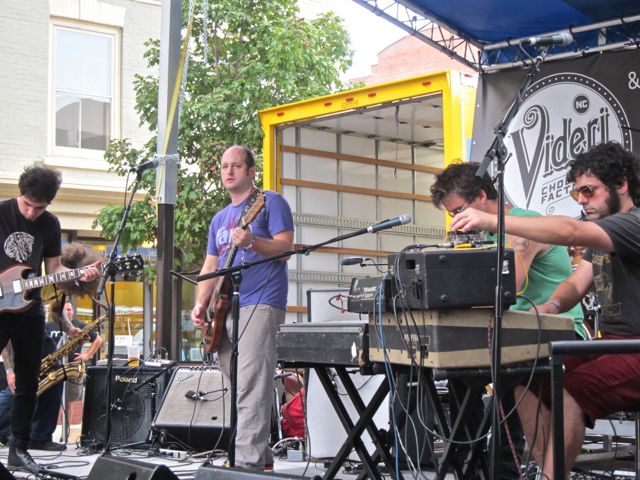 [Photos by acidjack]
Our friends in Oneida were a late but welcome addition to the "Megafaun and Friends" day show at Hopscotch Music Festival, and as usual, nobody knew what to expect in terms of the setlist. Joined by a number of special guests throughout the set (including the ubiquitous man-of-the-festival, the drummer Chris Corsano), Oneida filled the streets of downtown Raleigh, NC with their complex improvisational post-rock. For this show, we were treated to a rendition of the band's LP Preteen Weaponry, which this site also recorded a live performance of back in June of last year. As we eagerly await their next album, A List of the Burning Mountains, out on November 13, this just-over-half-hour set of another of the band's classic albums whetted our appetites for what they have in store for us in just under two weeks.
I recorded this set with a soundboard feed provided by the day's hardworking sound team, plus Schoeps MK5 omnidirectional microphones. The sound is excellent, after some initial adjustments to the board mix. Enjoy!
Oneida plays their record release show at Secret Project Robot on December 1.
Stream "Part II"

Direct download of MP3 files [HERE] | Direct download of FLAC files [HERE]
If the FLAC link is no longer working, email nyctaper for the FLAC files
Check out all of NYCTaper's Hopscotch Festival recordings
Follow acidjack on twitter
Note: All of the material on this site is offered with artist permission, free to fans, at our expense. The only thing we ask is that you download the material directly from this site, rather than re-posting the direct links or the files on other sites without our permission. Please respect our request.
Oneida
2012-09-08
Hopscotch Festival Day Party
Raleigh, NC USA
Exclusive download hosted at nyctaper.com
Recorded and produced by acidjack
Soundboard + Schoeps MK5 (omni, at soundboard, split 3ft)>KC5>CMC6>>Edirol R-44 [OCM]>2x24it/48kHz WAV>Adobe Audition CS 5.5 (mixdown)>Izotope Ozone 5 (EQ, tube effect)>Audacity 3.0 (set fades, tracking, amplify, balance)>FLAC ( level 8 )
Tracks [Preteen Weaponry]
01 Part I
02 Part II
03 Part III
If you enjoyed this recording, please support Oneida, visit their website, and purchase A List of the Burning Mountains (available for pre-order NOW) and their other releases from Jagjaguwar [HERE]