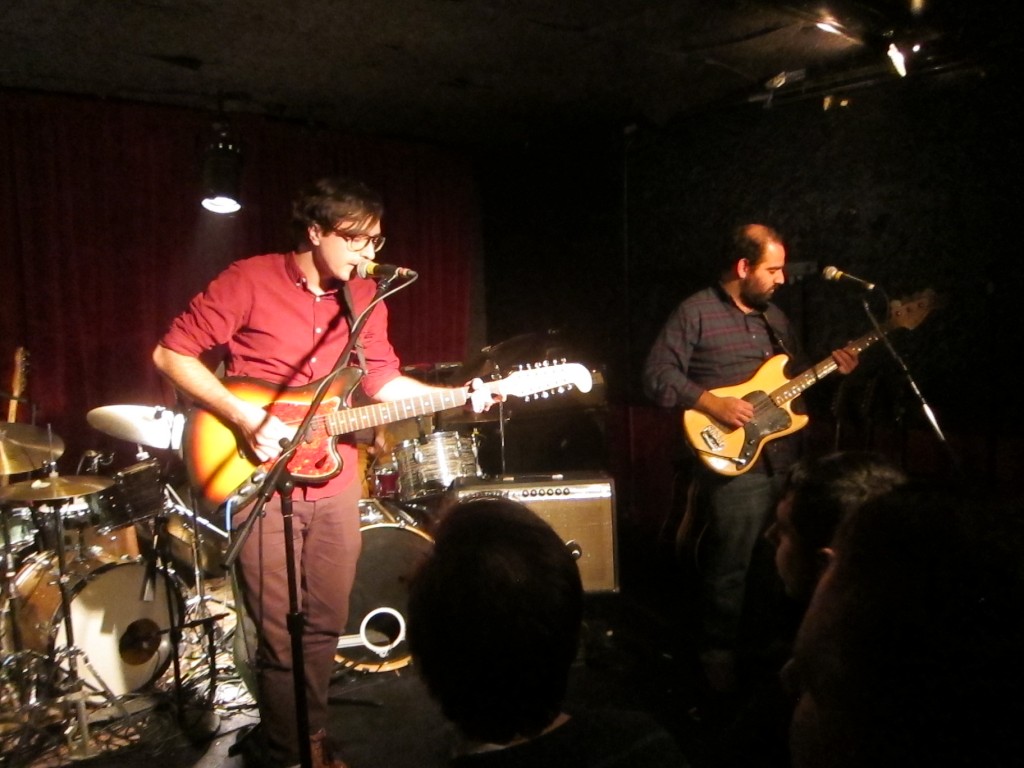 [photo by Steven Marsh and Will You Miss Me When I'm Gone blog]
Last week, Real Estate checked off what must be described as a common bucket list item for New Jersey rockers of a certain age — the chance to open up a Yo La Tengo Hanukkah show. But this slot wasn't just given to the band. They have clearly earned such honors, as Real Estate has emerged as one of the best bands in indie circles these days. Days was one of the best albums of 2011, and at Hanukkah Night 4 Real Estate revealed that they have the blueprints for a worthy followup. The band opened the show with three new songs, all instantly catchy in a Real Estate way. The third new song also featured something that seemed natural for the band, but it may be the first time we've seen the band engage in an extended jam. And it was dead-on. We're streaming the untitled new song below, and we hope it will continue to be one of the band's jam vehicles. Real Estate will be going to tour in Australia in the new year.
I recorded this set in the same manner as all of the Yo La Tengo recordings, the Sennheiser cards mixed with an excellent board feed. The sound is superb. Enjoy!
Stream "New Song "Easier That Way":

Download the Complete Show [MP3] / [FLAC]
Note: All of the material on this site is offered with artist permission, free to fans, at our expense. The only thing we ask is that you download the material directly from this site, rather than re-posting the direct links or the files on other sites without our permission. Please respect our request.
Real Estate
2012-12-11
Hanukkah Night 4
Maxwell's
Hoboken, NJ USA
Digital Master Recording
Soundboard + Audience Matrix
Soundboard + Sennheiser MKH 8040s > Edirol R-44 (Oade Concert Mod) > 2 x 24bit 48kHz wav files > Soundforge (level adjustments, set fades, downsample) > CDWave 1.95 (tracking) > TLH > flac (320 MP3 and Tagging via Foobar)
Recorded and Produced
by nyctaper
2012-12-19
Setlist:
[Total Time 39:43]
01 [new song – If Not For You]
02 [new song – Have Another One On Me]
03 [new song – Easier That Way]
04 Suburban Dogs
05 Easy
06 Green Aisles
07 Wonder Years
08 Its Real
If you Download this recording from NYCTaper, we expect that you will PLEASE SUPPORT Real Estate, visit their website, and purchase Days from the Domino Records website [HERE].