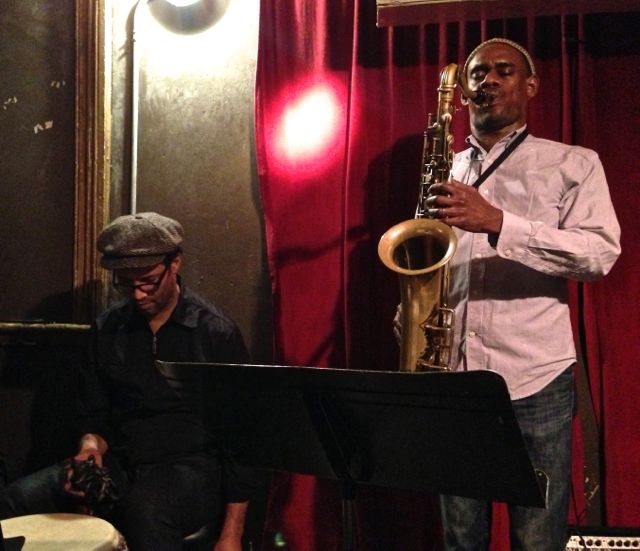 [Photo by acidjack]

Virtually all  of the music we cover on this website, partly by design, but partly by inertia, falls somewhere along the spectrum of "rock" music. Even if that's the case, that represents only a fraction of the music we listen to, or are interested in. New York remains a hotbed of activity for the still-vital jazz scene, and one of the easiest and most low-key ways to get some exposure to the scene right now is through The Palimpsestic Series, curated by Oscar Noriega at the Park Slope bar Barbès every Wednesday night.  On the advice of a friend, I settled in on a recent night for an outstanding set by the Washington, D.C. virtuoso tenor saxophonist Brian Settles and most of his band Central Union (Jeremy Carlstedt, on drums and Jean Marie Collatin Faye, on percussion and bassist Corcoran Holt). Settles' 2011 album, Secret Handshake, represents the first record for the accomplished Duke Ellington School of the Arts veteran as a bandleader, a role  into which he fits admirably. This set featured two of those compositions, "Zui Quan" and "Soulnimsky", a cover of John Coltrane's "Reverend King", and three new numbers. Some rock shows make me flat-out bored these days; watching Settles and his band up close in this setting was riveting. In this postage-stamp-sized room, it's not hard to arrive early enough to get a front-row seat to the action, and I would encourage live jazz newbies (like me) to take advantage of a chance to not only listen to the players, but watch how they interact with each other and the piece of music. Especially as live music is concerned, jazz (especially of the more avant-garde variety) is an undeservedly obscure art form. There is a whole world of exceptional performances out there – like this one – if you take the time to seek them out.
Settles will next appear in New York on this Saturday, Feb 2., when he and Carlstedt appear as a duo as part of the Evolving Music Series, located at 107 Suffolk Street in Manhattan.  Their set time is 10:30pm, and you can get tickets at the door.
I recorded this set directly in front of the band using the mid-side technique with a Schoeps MK5 cardiod microphone as the center channel and a Schoeps MK8 figure-8 microphone as the "side", which allows the recordist to vary the width of the stereo image.  This recording provides exceptional width and clarity, though the instruments may be too localized for some people's taste if they listen through headphones.  Enjoy!
Direct download of the complete show: [MP3] | [FLAC]
If the FLAC link is no longer working, email nyctaper for the FLAC files
Follow acidjack on twitter
Note: All of the material on this site is offered with artist permission, free to fans, at our expense. The only thing we ask is that you download the material directly from this site, rather than re-posting the direct links or the files on other sites without our permission. Please respect our request.
Brian Settles & Central Union
2013-01-16
Barbes
Brooklyn, NY USA
Recorded and produced by acidjack
Schoeps MK5+MK8 (M/S)>KCY>Z-PFA>Roland R-26>24bit/48kHz WAV>Voxengo MSED (decode M/S)>Adobe Audition CS 5.5 (adjust levels)>Izotope Ozone 5 (light EQ, warmth)>Audacity 3.0 (set fades, tracking, amplify, gentle parallel compression, downsample)>FLAC ( level 8 )
Tracks [Total Time: 1:15:24]
01 [intro]
02 Zui Quan
03 Reverend King [John Coltrane]
04 Orbit [omitted at artist request]
05 Brother Nimsky
06 Sipho
07 Soulnimsky
Players:
Brian Settles – Saxophone
Jeremy Carlstedt – Drums
Jean Marie Collatin Faye – Percussion
Corcoran Holt – Bass
If you enjoyed this recording, PLEASE SUPPORT Brian Settles, visit his website, and buy Secret Handshake from Amazon or your favorite retailer.