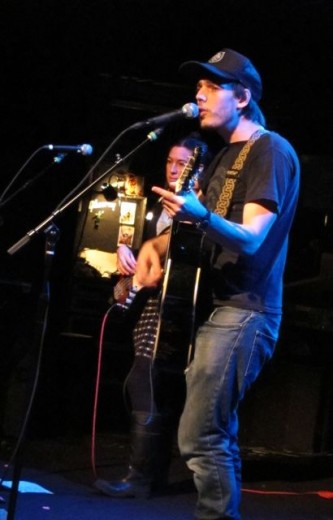 [photo by acidjack]
It is a pure coincidence that our next post after Diane Cluck is her sometime collaborator and fellow anti-folk alum Jeffrey Lewis. We spoke at length with Jeffrey after his entertaining performance at the first night of the Don Giovanni Records showcase at Music Hall of Williamsburg on Friday night. Speaking to Jeffrey is almost as entertaining as seeing him live, but we also learned that he was in fact at the Diane Cluck show on Tuesday. It is not a coincidence however that the two artists have chosen the same uncompromising career choices, Diane as a direct-to-fan artist and Jeffrey as a multi-talentend jack of all trades — songwriter, cartoonist, humorist and writer. The performance on Friday offered a forty-minute glimpse of these talents and was a thoroughly enjoyable set on many levels, offbeat ("Cult Boyfriend" streaming below), thoughtful ("Life"), educational ("Pocahontas"), and completely hilarious ("The Pigeon", a yiddish LES spoof of Poe's The Raven). We have had the luck to see Jeffrey several times, but inexplicably he's never been on the site. We are happy to finally have him here, and hope there are more to come.
I recorded this set with acidjack from a prime location in this venue. I mixed the Sennheiser cards with a fine soundboard feed and the results are superb. Enjoy!
Stream "Cult Boyfriend":

This Recording is now available to Download in FLAC and MP3 and to Stream at Archive.org [HERE].
Note: All of the material on this site is offered with artist permission, free to fans, at our expense. The only thing we ask is that you download the material directly from this site, rather than re-posting the direct links or the files on other sites without our permission. Please respect our request.
Jeffrey Lewis
2013-02-08
Music Hall of Williamsburg
Brooklyn, NY
Digital Master Recording
Soundboard + Audience Matrix
Soundboard + Sennheiser 8040 Cardioids > Edirol R-44 (Oade Concert Mod) > 2 x 24bit 48kHz wav files > Soundforge (level adjustments, mixdown, set fades) > CDWave 1.95 (tracking) > TLH > flac (320 MP3 and tagging via Foobar)
Recorded by nyctaper and acidjack
Produced by nyctaper 2013-02-10
Setlist:
[Total Time 36:41]
01 When You're By Yourself
02 [banter – thanks for coming]
03 Cult Boyfriend
04 Big A Little A [Crass]
05 [banter – low budget films]
06 Pocahontas
07 Life
08 Reaching
09 [banter – Raven]
10 The Pigeon
11 Time Trades
12 Into A Corner
13 The Dirty Bird
If you download this recording from NYCTaper, we expect that you will PLEASE SUPPORT Jeffrey Lewis, visit his website, and purchase his official merch at his website [HERE] and at Don Giovanni Records [HERE].