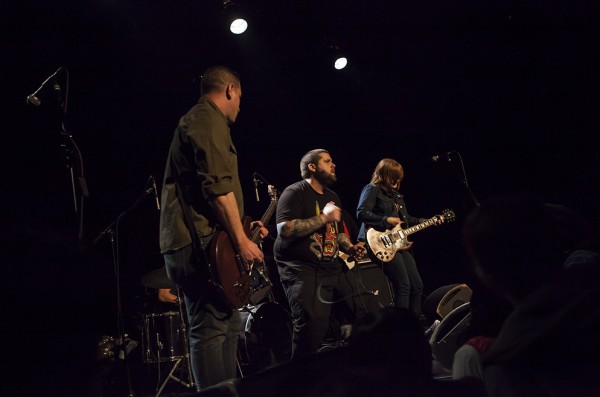 [photo by Rafe Baron courtesy of Impose Magazine]
We make no secret of the fact that we're big fans of Don Giovanni Records, the label's leaders Joe and Zach, and the outstanding music they release. At this year's DGR showcase, the label celebrated their 10th anniversary and spurred the reunion of one of New Brunswick's legendary punk bands. Stormshadow released only one album Set On Destroy on CD-R and sold it at their shows. On the very day the band played their first show in over a decade at Music Hall of Williamsburg, Don Giovanni gave their album a proper release. At Music Hall, the band played 9 songs from the album in a twelve-song twenty-five minute set that went all too quickly. Stormshadow is one of those Minutemen-styled punk bands that is intelligent, energetic and able to effortlessly meld genres. The wrinkle in their sound is the male-female vocals which gives them a three-dimensional sound. Perhaps motivated by the success of this set, Stormshadow will now be playing more shows, including one on March 30 at the Court Tavern in New Brunswick.
I recorded this set in the same manner as the other sets from this night and the sound is superb. Enjoy!
Stream "Switched On":

Download the Complete show [MP3] / [FLAC]
Note: All of the material on this site is offered with artist permission, free to fans, at our expense. The only thing we ask is that you download the material directly from this site, rather than re-posting the direct links or the files on other sites without our permission. Please respect our request.
Stormshadow
2013-02-09
Music Hall of Williamsburg
Brooklyn, NY
Digital Master Recording
Soundboard + Audience Matrix
Soundboard + Sennheiser 8040 Cardioids > Edirol R-44 (Oade Concert Mod) > 2 x 24bit 48kHz wav files > Soundforge (level adjustments, mixdown, set fades) > CDWave 1.95 (tracking) > TLH > flac (320 MP3 and tagging via Foobar)
Recorded and Produced by nyctaper
2013-03-08
Setlist:
[Total Time 24:47]
01 [intro]
02 Switched On
03 Forty Ounces and The King Of Smoke
04 Watson Brake
05 Stainless Stealing and the Wage Gap
06 Ponce de Leon and the Fountain of Slaves
07 Compassion Confection
08 [banter]
09 Anvil
10 Glitter
11 Catch You on the Flip
12 Its The Passion
13 Houdini
14 Notes From the Greaser Underground
If you download this recording from NYCTaper, we expect that you will PLEASE SUPPORT Stormshadow, visit their website, purchase Set On Destroy from Don Giovanni Records [HERE].