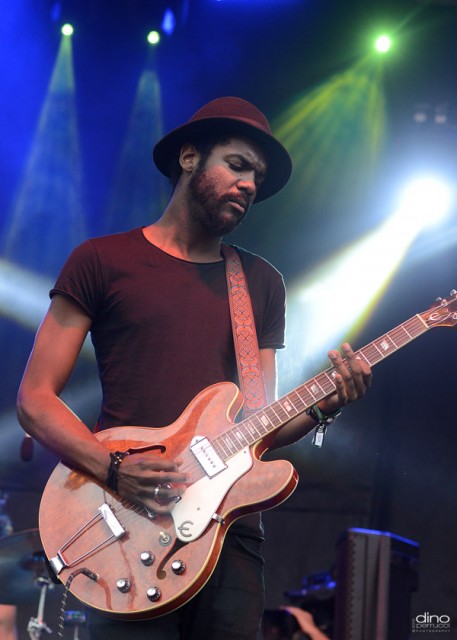 [photo courtesy of Dino Perrucci Photography]
It must get tiresome for black guitarists to be tagged as the "next Hendrix" with predictable regularity. Gary Clark Jr. is just the latest to receive this impossible and ridiculous comparison, including from the New York Times of all places. At best, the Hendrix comparison trotted out for every black rock guitarist is simply lazy, and at worst its subtlely racist. I suspect that a performer with the intelligence and grace exhibited by Gary Clark Jr. must sigh at the silliness of the tag, but also find it somewhat humorous at this point. We caught his excellent set on Saturday of Mountain Jam last month and the tongue in cheek acknowledgment of the comparison was a terrific run through Hendrix's "Third Stone from the Sun" both as the intro and outro of Clark's own "If You Love Me Like You Say". In the seventy-five minute set, Gary Clark Jr. exhibited both the guitar chops and strong vocals that have earned him an enormous amount of authentic praise lately, too. He was selected to play at Eric Clapton's 2013 Crossroads Festival, he performed with the Rolling Stones this Summer, and he even played at the White House for a Command Performace. When he next returns to the NYC area, it will be for a headline gig at the cavernous Terminal 5.
I recorded this set in the same manner as the Govt Mule set from later in the day, and the sound is equally good. Enjoy!
Stream "Catfish Blues":

Download the Complete show [MP3] / [FLAC]
Gary Clark Jr
2013-06-08
Mountain Jam
Hunter Mountain NY
Digital Master Audience Recording
Neumann TLM-102s > Edirol R-44 (Oade Concert Mod) > 24bit 48kHz wav file > Soundforge (level adjustments, EQ, set fades) > CDWave 1.95 (tracking) > TLH > flac (320 MP3 and tagging via Foobar)
Recorded and Produced
by nyctaper 2013-07-21
Setlist:
[Total Time 1:16:50]
01 When My Train Pulls In
02 Don't Owe You A Thing
03 Please Come Home
04 Travis County
05 Third Stone From The Sun
06 If You Love Me Like You Say
07 Third Stone Reprise
08 If Trouble Was Money
09 Things Are Changin
10 Catfish Blues
11 Blak and Blu
12 Bright Lights Big City
If you download this recording from NYCTaper, we expect that you will PLEASE SUPPORT Gary Clark Jr., visit his website, and purchase his official releases from the Store at the Warner site [HERE].