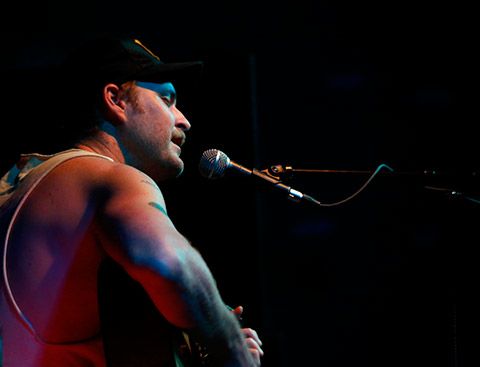 [Photos courtesy of P Squared Photography]
A man can make complicated music these days in a room alone with a machine. Create a symphony out of bits and bytes, a hit single out of a 4/4 beat and an idea. If you look at what's celebrated most often in music these days it's one person transcending the limits of money and time and space and the need for bandmates, usually because of his or her skill with a machine. In case you forgot, men alone have been doing that for decades, centuries, eons. Just the machines were simpler.
Hiss Golden Messenger has more words in its name than regular band members. In the studio the band is MC Taylor, former lead singer of beloved San Francisco band The Court & Spark, and longtime collaborator Scott Hirsch, plus the cream of available guest players. On the road, it's often Taylor alone.
What started it all — a rough-hewn bit of work called Bad Debt — was nothing more than Taylor banging out songs with a guitar and a tape deck in his kitchen, while his baby slept. If it sounds old-fashioned, way more old-fashioned than some wide-eyed impresario making beats with a MacBook Pro and Ableton, well, that's because it is. Sometimes the best things are the simplest things, the ones made how we used to before everything got too easy. But to hear the deep feeling and rich meaning that Taylor can put into a song with the tools he has, well, the old way starts to look economical. Take the Bad Debt spirit, add a band and unforced, high-quality production, and you've got masterpieces like his two primary releases on North Carolina imprint Paradise of Bachelors — Poor Moon and this year's Haw, which are probably my two favorite records of the past two years.
This night's show at Glasslands — Taylor's first New York show in four years — brought us back to the Bad Debt days, with Taylor alone at a guitar in front of a room that, with no disrespect to the night's headliner Daughn Gibson, seemed to include a lot of folks, myself included, who'd come to see him. We were rewarded again and again. Taylor's typical set-starting song, "Father Sky" found itself replaced with his version of a traditional song, most recently popularized as "When I Was A Young Girl" by Nina Simone. Two new numbers, possibly to appear on an upcoming EP, showed up for the first time I've heard them. "Southern Grammar", streaming below, was particularly breathtaking, continuing Mike's ongoing lyrical struggles with faith. On stage sitting down in old jeans, a white tank top and a Caterpillar hat, Mike looked like an anachronism, especially on a Saturday night. He didn't have much for us to look at, gimmicks to parlay into Twitter excitement or iPhone photos. Hiss Golden Messenger had nothing but music, and words. He sang, and the world went still.
This recording is primarily the soundboard feed of engineer Josh Thiel's house mix, plus a small amount of the house mics for ambiance. The sound is excellent. Enjoy!
Stream "Southern Grammar"

Stream "The Serpent Is Kind (Compared to Man)"

Download the complete show: [MP3] | [FLAC]
Note: All of the material on this site is offered with artist permission, free to fans, at our expense. The only thing we ask is that you download the material directly from this site, rather than re-posting the direct links or the files on other sites without our permission. Please respect our request.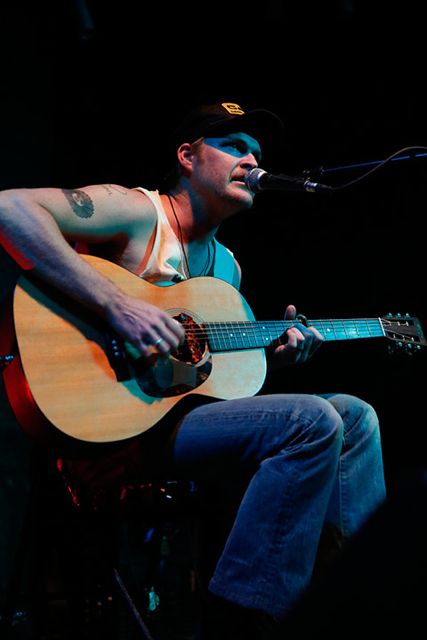 Hiss Golden Messenger
2013-08-17
Glasslands
Brooklyn, NY USA
Exclusive download hosted at nyctaper
Recorded and produced by acidjack
Soundboard (engineer: Josh Thiel) + Naiant XR>Sound Devices USBPre2>>Edirol R-44 [OCM]>Adobe Audition CS 5.5 (light reverb to SBD)>Izotope Ozone 5 (tape effect)>Audacity (fades, tracking, amplify, balance, downsample)>FLAC ( level 8 )
Tracks [Total Time 38:28]
01 When I Was A Young (Boy) [Nina Simone]
02 [banter1]
03 Blue Country Mystic
04 Call Him Daylight
05 [banter2]
06 O Little Light
07 He Wrote the Book
08 Southern Grammar
09 [banter3]
10 Chapter & Verse
11 The Serpent Is Kind (Compared To Man)
12 [banter4]
13 I've Got A Name For The Newborn Child
If you enjoyed this recording, PLEASE SUPPORT Hiss Golden Messenger, like him on Facebook, and purchase Haw and his other releases on digital or vinyl from Paradise of Bachelors [HERE], or all of his releases on vinyl [HERE].