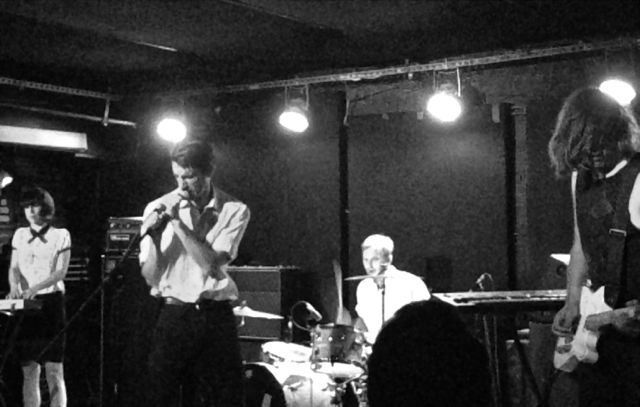 I'd heard nothing but good things about Pop. 1280 since my NC buddy David Schwentker posted their Hopscotch Festival recording here from last year. It's not just about the dark, synth-driven sound or the vocals that sound like the voice of the apocalypse. It's about how they convert the sound of their excellent records, including this year's Imps of Perversion on Sacred Bones, into a live show that, even in the late slot at Mercury Lounge, will wake you the hell up. The band tore through a short set of material that focused almost exclusively on Imps of Perversion, with one track from 2011's The Horror making an appearance. Compared to the Hopscotch set, Pop. 1280's sound has become even more refined and able to dominate a crowd, and we look forward to a longer engagement in the future.
I recorded this set in our usual manner for Mercury Lounge, with Schoeps MK41 microphones and an excellent soundboard feed from head engineer Kevin Mazzarelli. The sound is outstanding. Enjoy!
Stream "Human Probe"

Download the complete show: [MP3] | [FLAC]
Note: All of the material on this site is offered with artist permission, free to fans, at our expense. The only thing we ask is that you download the material directly from this site, rather than re-posting the direct links or the files on other sites without our permission. Please respect our request.
Pop. 1280
2013-08-16
Mercury Lounge
New York, NY USA
Exclusive download hosted at nyctaper.com
Recorded and produced by acidjack
Schoeps MK41>KCY>Z-PFA + Soundboard >> Roland R-26>2x24bit/48kHz WAV>Adobe Audition CSS 5.5 (align, mix down, fades)>Izotope Ozone 5 (effects, eq)>Audacity 2.03 (tracking, amplify, balance, downsample)>FLAC ( level 8 )
Tracks
01 Human Probe II
02 The Control Freak
03 Nailhouse
04 [tuning]
05 New Electronix
06 Human Probe>
07 Do the Anglerfish
If you enjoyed this recording, PLEASE SUPPORT Pop. 1280, visit their Tumblr, and buy their records from Sacred Bones.