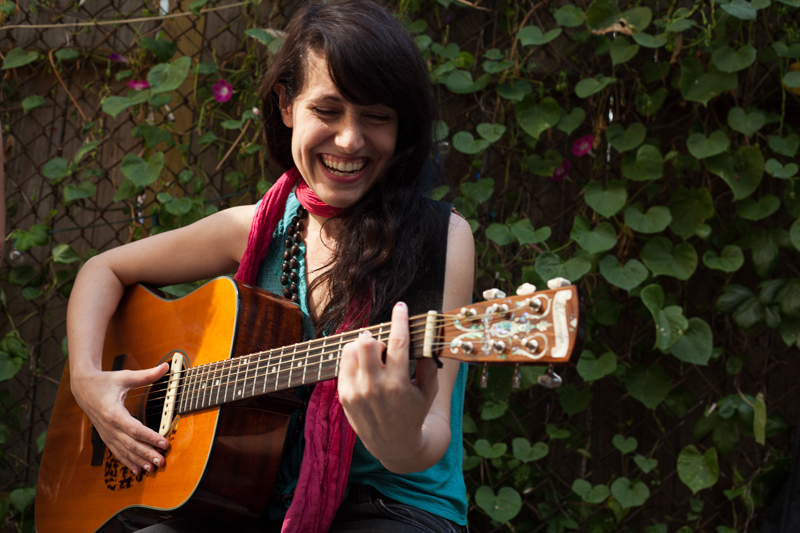 [Photography by Dominick Mastrangelo]
As they often do, this year's edition of Backyard Brunch Sessions gave us a different take on the band Elizabeth and the Catapult than you might get from listening to their official releases. Band founder Elizabeth Ziman, a New York native, has a proud and diverse musical pedigree, from classical education at the Berklee College of Music to work in film scoring to spending some time busking in the subway. Joined by new members (as of the last album, at least) Lauren Balthrop and Jonno Linden, Ziman has been putting together material for a new release, and what we heard on this afternoon were soul-searching, mature evolutions beyond the band's previous albums Taller Children and The Other Side of Zero. 
The new songs also offer some of Ziman's most compelling hooks yet. Of particular note was "I Wish I Didn't," whose tone of resignation was lightened by some humorous moments with the DIY instrument selection. Ziman, Balthrop and Linden joined together for gorgeous vocal harmonies, particularly on "Please Don't Tell Me A Lie" and "Go Away My Lover", the lone offering played off of The Other Side of Zero. We also got to hear one of Ziman's favorite Dawes songs, a lovely rendition of "When My Time Comes" with Ziman and Balthrop doing a soaring vocal turn. The band led off with a Balthrop original, "Please Don't Tell Me A Lie", which she has performed with her own project Dear Georgiana. Although this lovely back yard on Grand Street in Williamsburg didn't feel quite the same as a subway station, the show offered some of that same loose, unadorned feel. And it proved, without doubt, that this band has the skills to keep a crowd excited.
I recorded this set with a Schoeps MK5 and MK8 microphone in the mid-side configuration in the middle of the band, plus spot mics on the performers. The sound quality is excellent. Enjoy!
Stream "I Wish I Didn't"

Download the complete show: [MP3] | [FLAC]
Note: All of the material on this site is offered with artist permission, free to fans, at our expense. The only thing we ask is that you download the material directly from this site, rather than re-posting the direct links or the files on other sites without our permission. Please respect our request.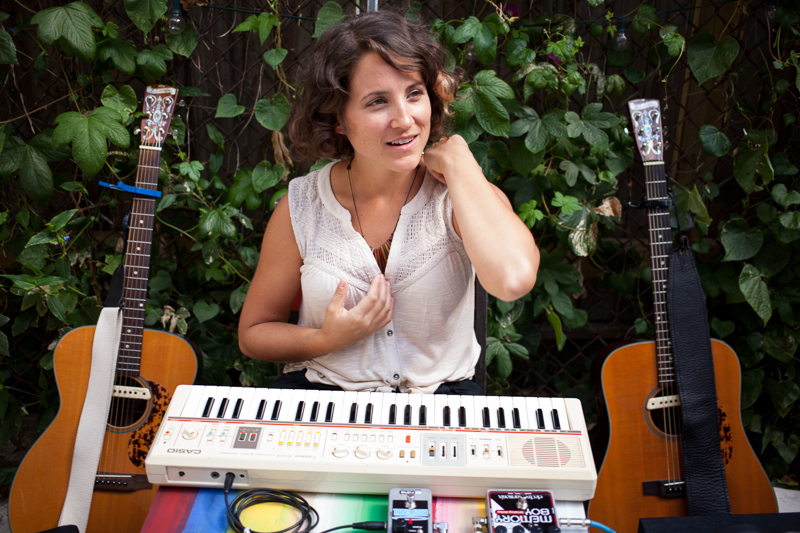 Elizabeth and the Catapult
2013-09-22
Backyard Brunch Sessions
Brooklyn, NY USA
Recorded and produced by acidjack
Hosted at nyctaper.com and backyardbrunchsessions.com
Schoeps MK5 (omni)+Schoeps MK8 (M-S) + Audio Technica 3031>Edirol R-44 [OCM]>2x24bit/48kHz WAV>Adobe Audition CS 5.5 (various effects and mixdown)>Izotope Ozone 5 (EQ, effects)>Audacity 2.03 (fades, tracking, amplify, balance, downsample, dither)>FLAC ( level 8 )
Tracks
01 [intro- David Chaitt]
02 Please Don't Tell Me A Lie [Dear Georgiana]
03 Shoelaces
04 I Wish I Didn't
05 [banter]
06 Someday Soon
07 [banter2]
08 When My Time Comes [Dawes]
09 [banter3]
10 Go Away My Lover
If you enjoyed this recording, PLEASE SUPPORT Elizabeth and the Catapult, visit their website, and buy Other Side of Zero from Amazon or your favorite retailer.