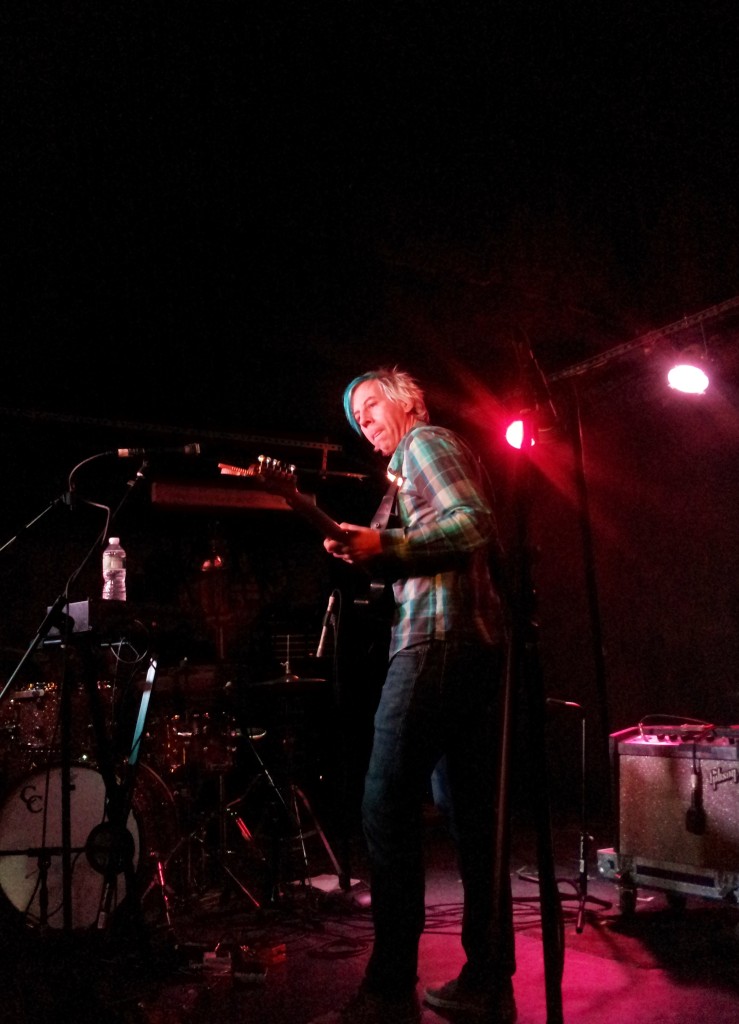 [photo by Martin Foyle]
For years we've espoused the position that John Vanderslice is the nicest guy in music. So it was especially rewarding when we watched his Kickstarter campaign for his new album Dagger Beach easily reach its goal and then quadrupled its target. Apparently, our positive opinion of John is quite ubiquitous. But Vanderslice being who he is, the fans were rewarded for their support — a song-for-song cover of Bowie's Diamond Dogs available as a bonus to the Dagger Beach package. The tour to support the album has been, as most of John's tours have become, an artist-fan lovefest. On Tuesday night at Mercury Lounge, Vanderslice played the late show slot to a packed room and the love was flowing. He's accompanied by drummer/percussionist/electro-wizard Jason Slota and sound engineer Jacob Winik on this tour and the result is that live Vanderslice sounds as if he's playing with a full band mixed to perfection. At Mercury, the setlist was a nice mix of Dagger Beach material, two Diamond Dogs covers, and a democratic selection of older tracks. The highlights were plentiful, but I've chosen to stream a powerful and perfect version of "Kookaburra". John's tour continues through Florida this week and then through Texas and ends in California on November 22.
I recorded this set with the Sennheiser cards set up in front of the soundboard booth and mixed with Jacob's superb board feed. Enjoy!
Stream "Kookaburra":

Download the Complete Show [MP3] / [FLAC]
Note: All of the material on this site is offered with artist permission, free to fans, at our expense. The only thing we ask is that you download the material directly from this site, rather than re-posting the direct links or the files on other sites without our permission. Please respect our request.
John Vanderslice
2013-11-05
Mercury Lounge
New York NY
Digital Master Recording
Soundboard + Audience Matrix
Soundboard + Sennheiser MKH-8040s > Edirol R-44 (Oade Concert Mod) > 2 x 24bit 48kHz wav files > Soundforge (level adjustments, set fades, downsample) > CDWave 1.95 > (tracking) > TLH > flac (320 MP3 and Tagging via Foobar)
Recorded and Produced
by nyctaper
Setlist:
[Total Time 1:31:36]
01 [introduction]
02 The Parade
03 [banter – mega millions]
04 Exodus Damage
05 How the West Was Won
06 Tablespoon of Codeine
07 Time Travel Is Lonely
08 Song for Dana Lok
09 Underneath The Leaves
10 [banter – Dana]
11 Sweet Thing [Bowie]
12 [banter – greatest drummer]
13 Harlequin Press
14 [banter – cannoli]
15 Time To Go
16 [banter – old equipment]
17 Kookaburra
18 [banter – coach]
19 Plymouth Rock
20 White Plains
21 [banter – Mitch]
22 Big Brother [Bowie]
23 Pale Horse
24 White Dove
25 [banter – four mallets]
26 Trance Manual
If you email nyctaper for access to this recording, we expect that you will PLEASE SUPPORT John Vanderslice, visit his website, and purchase his official releases, including Dagger Beach from the Shop at his website [HERE].