[photos by PSquared Photography]
The final night of these long runs of shows by Yo La Tengo are always the most bittersweet nights. Throughout the week of the shows, we fall into a kind of change of lifestyle during these periods — get through the work day, get to the venue, and then inside the little cocoon of the show. Its a bit of a fantasy world, and by the time of the last show we're tired, happy for the experiences and perhaps a little nostalgic for what's soon to end. The band generally saves some special treats for the closer and on the fourth and final night of the Bell House it was no different. From our perch adjacent to the VIP area, we could see that the Kaplan and Hubley extended families were out in full and this added a bit of "old home" to the performance. We felt that the more personal lyrics were especially heartfelt — "Our Way To Fall" and "The Point of It" were particularly solid versions of those songs. But for those of us who'd weathered the snow and the travel and put off whatever we had going on in our lives for four consecutive nights, Ira dedicated the infrequently-performed older number "Satellite". The song had been requested earlier in the week by one of those every-show guys (our friend from the "Laz Archives") and we were happy to see him get mention from stage. We're streaming that song below. For the electric set, once again the band held back nothing and marched full energy through ninety minutes of noisy goodness. This show the set closer was "Blue Line Swinger", which at fourteen minutes was not the longest version we've seen but it was certainly one of the tightest. My own personal highlight of the evening and of perhaps the entire run of shows came as the encore set began — a raging cover of Neil Young's "Time Fades Away" which featured the shared riffs of Antietam's Tara Key on guitar. And as she has often, Marilyn Kaplan closed the set and the week with her annual appearance with her son's band to sing "My Little Corner of the World". While the Bell House isn't Maxwell's, the venue certainly offers a number of charms that we hope make it become the "corner of the world" that hosts future Yo La Tengo shows, perhaps even next year's Hanukkah celebration. We shall see.
I recorded this set in the same manner as the recording posted for December 14 and the sound quality is equally superb. Enjoy!
Stream "Satellite":

Stream "Time Fades Away":

Download the Complete Show [MP3] / [FLAC] or [FLAC]
Note: All of the material on this site is offered with artist permission, free to fans, at our expense. The only thing we ask is that you download the material directly from this site, rather than re-posting the direct links or the files on other sites without our permission. Please respect our request.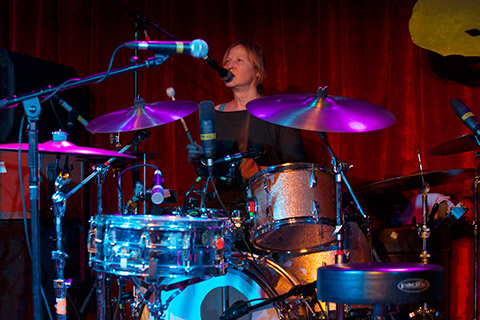 Yo La Tengo
2013-12-16
Bell House
Brooklyn, NY USA
Digital Master Recording
Soundboard + Audience Matrix
Soundboard (engineer Mark Luecke) + Neumann KM-150s > Edirol R-44 (Oade Concert Mod) > 24bit 48kHz wav file > Soundforge (level adjustments, set fades, downsample) > CDWave 1.95 > (tracking) > TLH > flac (320 MP3 and Tagging via Foobar)
Recorded and Produced
by nyctaper
Setlist:
Set 1
[Total Time 50:17]
01 Ohm
02 Our Way to Fall
03 When It's Dark
04 Is That Enough
05 [banter – trends]
06 Butchie's Tune [Lovin Spoonful]
07 The Point of It
08 Cornelia and Jane
09 I'll Be Around
10 Satellite
11 Big Day Coming
Set 2
[Total Time 1:33:28]
12 Stupid Things
13 Let's Save Tony Orlando's House
14 Outsmartener
15 Super Kiwi
16 Autumn Sweater
17 Before We Run
18 Deeper Into Movies
19 From a Motel 6
20 Ohm (electric)
21 Blue Line Swinger
22 [encore break]
23 Time Fades Away [Neil Young]
24 [banter]
25 By the Time It Gets Dark [Sandy Denny]
26 My Little Corner of the World [Pockriss – Hilliard]
If you download this recording from NYCTaper we expect that you will PLEASE SUPPORT Yo La Tengo, visit their website, and purchase their latest album Fade and its related special releases from Matador Records [HERE].