Follow @acidjacknyc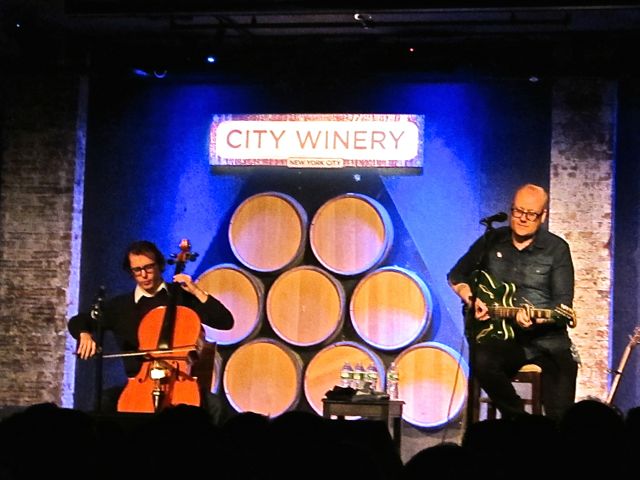 [Photos by acidjack]
No matter how many times I see Mike Doughty in a year, he's always got some kind of a new twist. Whether an epic two-plus hours of him breaking out Soul Coughing classics solo acoustic at City Winery, or his full-on all-Soul Coughing full-band set at Webster Hall, Doughty comes up with new ways to keep his loyal fan base interest. This City Winery performance reprised another of Doughty's fan favorites, the "Question Jar", which is more or less what it sounds like. Doughty plays some tunes, then he answers questions fans placed in a jar. Beyond learning Doughty's tastes in ice cream toppings and Beatles, though, what we got here was another hour and a half of Doughty at his best, this time backed by cellist Andrew "Scrap" Livingston, who added depth to songs like "Looking At the Bottom of A Well" from Haughty Melodic. 
A few Soul Coughing tunes were on the menu this time — probably that band's two best-known hits, "Circles" and "Super Bon Bon" — but most of the show was dedicated to Doughty's solo oeuvre. Some of those other highlights included "White Lexus", "Down On the River By the Sugar Plant" and the night's somewhat-unintentional highlight, "Busting Up A Starbucks". Doughty's a good-natured guy, but as we have seen in the past, he isn't afraid to call out disrespectful fans, which he did mid-song. For the rest of us who were paying attention, it was pure comedy. I'm not sure when Doughty will come this way next, but when he does, I suspect he'll have more tricks up his sleeve.

This recording is a straight soundboard feed, which makes sense given the relatively quite nature of the material. Engineer Patrick's house mix is outstanding. Enjoy!
This NYCTaper recording is being hosted on the Live Music Archive.  You can stream the entire show by clicking the song titles below or download it via the links provided.
Direct download of the entire show: [MP3] | [FLAC]
Mike Doughty
2014-03-01
City Winery
New York, NY USA
Download hosted at nyctaper.com
Recorded and produced by acidjack
Soundboard (engineer: Patrick)>Roland R-26>24bit/48kHz WAV>Adobe Audition CS 5.5 (compression)>Izotope Ozone 5 (effects, EQ)>Audacity 2.0.3 (fades, tracking, tagging, amplify, balance, downsample, dither)>FLAC ( level 8 )
Tracks
01 Unsingable Name
02 Super Bon Bon
03 27 Jennifers
04 [banter1]
05 Madeline and Nine
06 Down On the River By the Sugar Plant
07 The Only Answer
08 [banter2]
09 Circles
10 Sunken-Eyed Girl
11 [banter3]
12 Nectarine
13 White Lexus
14 Put It Down
15 Russell
16 [banter4]
17 Busting Up A Starbucks (w/ STFU)
18 Janine
19 I Hear the Bells
20 Looking at the World From the Bottom of A Well
21 [banter5]
22 Day By Day
23 [banter6]
24 Drunk On the Train to Chicago [Drink Me]
25 Put It Down
Personnel:
Mike Doughty – Guitar, vocals
Andrew "Scrap" Livingston – cello
If you enjoyed this recording, PLEASE SUPPORT Mike Doughty, visit his website, see him on tour this fall and buy his forthcoming record of Soul Coughing songs reimagined from PledgeMusic.