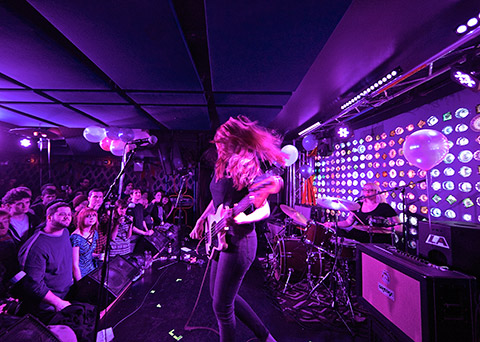 [Photos courtesy of P Squared Photography]
Oh, the Vivian Girls. You know you've been around awhile when you have witnessed the entire life cycle of a band like this. It wasn't that long ago, to us, that our then-young site was covering an up-and-coming all-female band at places like the East Village Radio Fest and some extremely random ToddP venues. Pretty soon, like any good little band that could, the Vivs were playing spots like Bowery Ballroom. They were loved, yet not universally so, and maybe that's as clear a sign as any that they mattered. As so eloquently summed up in Jenn Pelly's comprehensive Pitchfork piece, if you didn't like the band because they were "lo fi", if you didn't like the band because they weren't avant-garde or music school enough, well, that's on you. The Vivs wrote good songs. They wrote songs that sounded good in the spaces where their people were, in shitty apartments and on shitty rented PAs and, yes, on those shitty white iPhone headphones, by then ubiquitous. In their moment, as an all-female guitar band, they broke ceilings, too.
It's fitting that this final show took place at the brand-spanking-new Baby's All Right, a type of venue that would've been almost-unthinkable in the Williamsburg of 2007, when the Vivs hit the scene. Baby's has a real liquor license, cool stage lights, a professional sound system. There's a full-service restaurant in it that can (with 24 hours notice) serve you a whole pig. A bar that serves microbrews, makes a decent Old Fashioned. It's a far cry from Monster Island Basement, or even Zebulon or Music Hall's old ghost, Northsix.
But what hasn't changed is as important as what has. Like old times, the band played loud to a crowd where everyone knew the songs. People crowd surfed, and you could also find the band members out there too, Katy Goodman rocking out on the floor, surrounded by her peers (and maybe even a few curious synthpop refugees). This is one of those "last shows" that may give itself the lie, in the end, and that's OK. These women aren't quitting music — even, in a general sense, this band's style of music. Goodman has La Sera (our most recent recording here), Cassie Ramone has The Babies (our best recording here), Ali Koehler has Upset. Goodman reminded us backstage that La Sera have a new record out this May on Hardly Art; look for a new song to debut this week and check out a preview YouTube clip here.
So enjoy these old songs, then, for what they are: A once-in-a-lifetime quality rendering of them, ramshackle sounds going out in style. The Girls were having fun, in front of friends as well as their parents. The lucky few got to see "Out For the Sun" descend into noise jam territory as the band members cavorted onstage and with the audience, taking the energy of the room to its peak. The three-song encore did everything it needed to send them off right: their cover of The Wipers' "Telepathic Love", followed by "All The Time" straight into the night's closer, "No". Just under one hour and eighteen songs, and that was it. Balloons got popped, shots got drunk, there were goodbyes. It wasn't exactly the end of an era, but it was an end, and a great one.
We are truly grateful to the Vivian Girls, Baby's All Right engineer Devin Foley, and their entire team for allowing us the level of access we had to make this final recording. This is an 18-track digital multitrack recording from the soundboard that also includes two Naiant audience mics to capture the spirit of the crowd and sound of the room. It may still be "lo fi" by studio standards, but by the site's standards, this is one for the ages. We hope you enjoy.
Stream "When I'm Gone"

Stream "Telepathic Love" [The Wipers]

Download the complete show: [MP3] | [FLAC]

Note: All of the material on this site is offered with artist permission, free to fans, at our expense. The only thing we ask is that you download the material directly from this site, rather than re-posting the direct links or the files on other sites without our permission. Please respect our request.
Vivian Girls
2014-03-02
Baby's All Right
Brooklyn, NY USA
Exclusive download hosted at nyctaper.com
Recorded by Devin Foley, acidjack and nyctaper
Produced by acidjack
18-channel multitrack soundboard (Engineer: Devin Foley) + Naiant X-X (omni, stage lip, corners of stage)>Pro Tools>20x24bit/48kHz WAV>Adobe Audition CS 5.5 (various dynamics, compression, alignment, mixdown)>Izotope Ozone 5 (EQ, effects, stereo imaging, dynamics)>Audacity 2.0.3 (tracking, fades, amplify, balance, downsample, dither)>FLAC ( level 8 )
Tracks [Total Time 55:02]
01 Walking Alone At Night
02 I Have No Fun
03 Wild Eyes
04 I Heard You Say
05 [banter1]
06 The End
07 Death
08 Lake House
09 [banter2]
10 Sixteen Ways
11 [banter3]
12 I Believe In Nothing
13 Never See Me Again
14 When I'm Gone
15 [banter4]
16 Before I Start To Cry
17 Out For the Sun
18 [banter5]
19 Tell The World
20 [encore break]
21 Telepathic Love [The Wipers]
22 All The Time>
23 No
If you enjoyed this recording, PLEASE SUPPORT Vivian Girls by buying their records and supporting their next projects: La Sera, Upset and The Babies.