Follow @acidjacknyc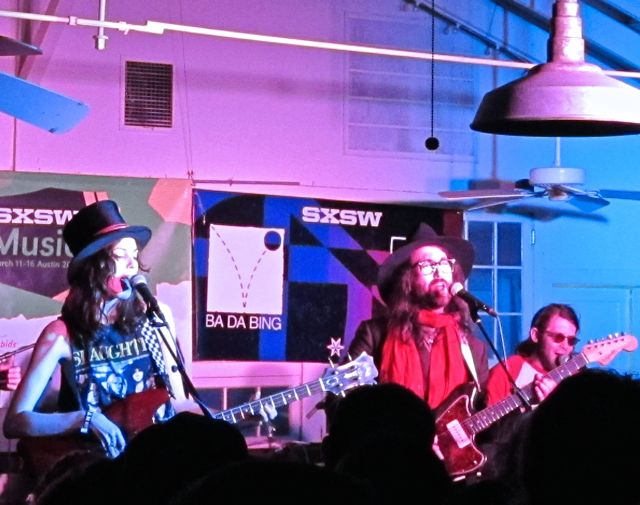 [Photo by acidjack]
It may be true that not quite all the fans who packed Austin's Palm Door for the first act of the Northern Spy / Ba Da Bing SXSW Showcase knew of the night of incredible experimental and underground music to come. But even if The Ghost of a Saber Tooth Tiger (GOASTT), whose unwieldy name hides its punchline well, were a bit better-known, they came humble, and they came hungry, despite a long day of shows already behind them. The band's main draw is of course the presence of Sean Ono Lennon, who in this setup proves a capable bandleader next to his longtime girlfriend and bassist, the model Charlotte Kemp Muhl.
I watched GOASTT from soundcheck to completion, and what stuck with me most was how good their new music is. There's a more Beatlesque rock streak to GOASTT tunes like "Too Deep", "Xanadu" and "Animals" than there was to some of Lennon's past work on earlier projects, and that felt right. The man's a natural at writing and performing in that style, and the GOASTT neither over-relied on it — becoming a Beatles cover band — or shied from the family legacy. Ono Lennon and Kemp Muhl bantered gamely between songs, kidding about her Slash-like outfit (with bonus points for the vintage Slaughter shirt), giving the show a relaxed feel that carried forward for the rest of the night.
Along with the almost all-new originals from their forthcoming album Midnight Sun, the GOASTT added two covers, including Syd Barrett's "Long Gone" and another from Golden Earring. As a five-piece (joined by Jared Samuel on keys, Tim Kuhl on drums and Robbie Mangano on guitar) the GOASTT is vastly more muscular than they sounded on their 2010 Acoustic Sessions release, and that is partly a reflection of their recent opening stints for the Flaming Lips and Tame Impala. Midnight Sun is on its way on April 29 via Chimera Music (note, this link seems to not be working, but you can also pre-order from Insound or Amazon). Many of these songs will be on it. Don't miss.
I recorded this set with a soundboard feed from the Palm Door staff, combined with Schoeps MK4V microphones hanging from the optimal position on the floor. The sound quality is quite good, limited only by the rather boomy room. Enjoy!
Stream "Too Deep"

Stream "Long Gone" [Syd Barrett]

Download the complete show: [MP3]  | [FLAC]

Note: All of the material on this site is offered with artist permission, free to fans, at our expense. The only thing we ask is that you download the material directly from this site, rather than re-posting the direct links or the files on other sites without our permission. Please respect our request.
The Ghost of a Saber Tooth Tiger (GOASTT)
2014-03-14
Northern Spy / Ba Da Bing SXSW Showcase
Palm Door
Austin, TX USA
Exclusive download hosted at nyctaper.com
Recorded and produced by acidjack
Soundboard + Schoeps MK4V (FOB/DFC)>KC5>PFA>>Edirol R-44 [OCM]>2x24bit/48kHz WAV>Adobe Audition CS 5.5 (adjust image, mix down, compression)>Izotope Ozone 5 (effects, EQ)>Audacity 2.0.3 (tracking, amplify, balance, downsample, dither)>FLAC ( level 8 )
Tracks
01 [intro]
02 Too Deep
03 Xanadu
04 Animals
05 [unknown1]
06 [unknown2 – Golden Earring cover]
07 [banter1]
08 [unknown3]
09 [unknown4]
10 [banter2]
11 Long Gone [Syd Barrett]
Personnel:
Sean Ono Lennon – guitar/vocals
Charlotte Kemp Muhl – bass/vocals
Jared Samuel – keyboards
Tim Kuhl – drums
Robbie Mangano – guitar
If you enjoyed this recording, PLEASE SUPPORT The GOASTT, visit their website, and pre-order Midnight Sun from Insound, Amazon, Chimera Music or iTunes.