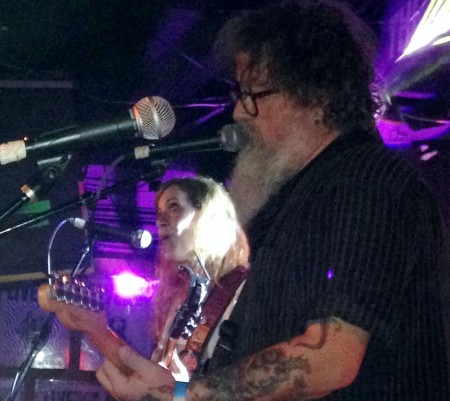 [iphone photo by nyctaper]
Wussy's new album Attica (Shake It Records) will be released in about a month. Its the band's fifth full-length release and its certainly their most ambitious project thus far. The album fully incorporates touring guitarist John Erhardt as a full-time member and the added instrumentation is evident in the record's production. Wussy recorded in the Afghan Whigs John Curley's studio and the results are both stylistically consistent with their previous output and more fully realized. Wussy is still raw and authentic, and when we caught them live last week at The Studio at Webster Hall, still funny as hell. This band has some very dedicated fans — we receive more requests to record Wussy than any other band, believe it not — and the front half of the room at the Studio was packed. Lisa Walker even took time during the encore break to individually thank fans who she'd seen consistently at shows. The set was what we've come to expect from our previous experiences, a fun and energetic but a tad bit sloppy run through a good selection of the band's Ohio americana/garage rock with frequent bits of hilarious banter. For this tour, the Attica material is obviously front and center and we're streaming an excellent version of "Bug", one of the standout tracks on the album.
I recorded this set with the Sennheiser cards set up beside the soundboard in the rear of the rectangular room and mixed with a board feed provided by house FOH David. The chattering in the back of the room can be heard at quieter times in the recording, but overall the sound is quite excellent. Enjoy!
Stream "Bug":

Download the Complete Show [MP3] / [FLAC]
Note: All of the material on this site is offered with artist permission, free to fans, at our expense. The only thing we ask is that you download the material directly from this site, rather than re-posting the direct links or the files on other sites without our permission. Please respect our request.
Wussy
2014-04-04
The Studio at Webster Hall
New York NY
Digital Master Recording
Soundboard + Audience Matrix
Soundboard [engineer David Fine-Firesheets] + Sennheiser MKH-8040s > Edirol R-44 (Oade Mod) > 2 x 24bit 48kHz wav files > Soundforge (level adjustments, mixdown, set fades) > CDWave 1.95 (tracking) > TLH > flac (320 MP3 and tagging via Foobar)
Recorded and Produced
by nyctaper
Setlist:
[Total Time 1:02:57]
01 Teenage Wasteland
02 Pulverized
03 Maglite
04 Death by Misadventure
05 To The Lightning
06 [banter – Joe's Daughter]
07 Bug
08 Pizza King
09 Yellow Cotton Dress
10 Rainbows and Butterflies
11 [banter – greatest city]
12 Airborne
13 [banter – videos]
14 Beautiful
15 [encore break]
16 Acetylene
17 Rigor Mortis
If you download this recording from NYCTaper we expect that you will PLEASE SUPPORT Wussy, visit their website, and pre-order Attica directly from Wussy's Bandcamp page [HERE] and purchase it thereafter from Shake It Records [HERE].