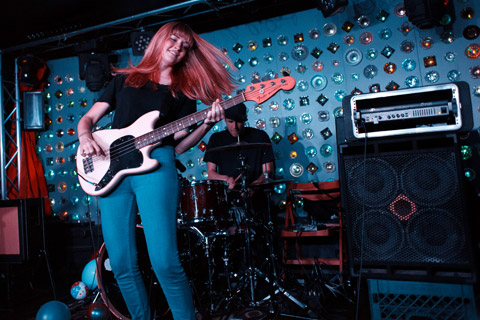 [photo by Amanda Hatfield – complete set at brooklynvegan]
Katy Goodman is authentically one of the nicest people in the indie music scene. Its hard to fathom how someone could be so positive, always smiling and so friendly to seemingly anyone she encounters. Its very easy to root for the success of someone with her disposition — and its especially true given the excellent quality of La Sera's new album Hour Of The Dawn. At the CD release show for the album at Baby's All Right last month, La Sera played to a packed room of admirers and the smiles were all around. The band played through seven of the nine tracks of Hour and a couple of older songs before closing the set with the title track. We're streaming that performance below. It featured an extended guitar interplay between Todd Wisenbaker and Greta Morgan — during which Katy jumped into the crowd and played her bass among the fans. The humorous part of the show and part of what makes Katy so likeable is that she spent much of the encore break apologizing to the fan who got hit by the neck of the bass in the audience. The fan said no problem, all was forgiven, and the band ended the set with a rollicking encore. La Sera will begin a European tour in May (dates here), that includes an appearance at the Primavera Sound Festival.
This set was recorded on the installed Multitrack system at Baby's All Right by sound tech Devin Foley and we mixed the raw files. The sound is pro-quality. Enjoy!
Stream "Hour Of The Dawn":

Download the Complete Show [MP3] / [FLAC]
Note: All of the material on this site is offered with artist permission, free to fans, at our expense. The only thing we ask is that you download the material directly from this site, rather than re-posting the direct links or the files on other sites without our permission. Please respect our request.
La Sera
2014-05-10
Babys All Right
Brooklyn, NY USA
Digital Soundboard Multitrack Recording
Multitrack Soundboard (engineered and recorded by Devin Foley) > 15 individual 24bit 48kHz wav files > Sonar LE (mixdown and effects) > Soundforge (level adjustments, setfades) > CDWave 1.95 (tracking) > TLH > flac (320 MP3 and Tagging via Foobar)
Produced by nyctaper
Setlist:
[Total Time 41:57]
01 Break My Heart
02 Summer of Love
03 All My Love Is For You
04 Devil Hearts Grow Gold
05 Losing To The Dark
06 Fall In Place
07 Love That's Gone
08 Please Be My Third Eye
09 Ten Headed Goat Wizard
10 Looking For The Magic
11 Never Come Around
12 Running Wild
13 Hour Of The Dawn
14 [encore break]
15 Control
If you download this recording from NYCTaper, we expect that you will PLEASE SUPPORT La Sera, visit the website, and purchase the new album Hour Of The Dawn from the Hardly Art Records website [HERE].