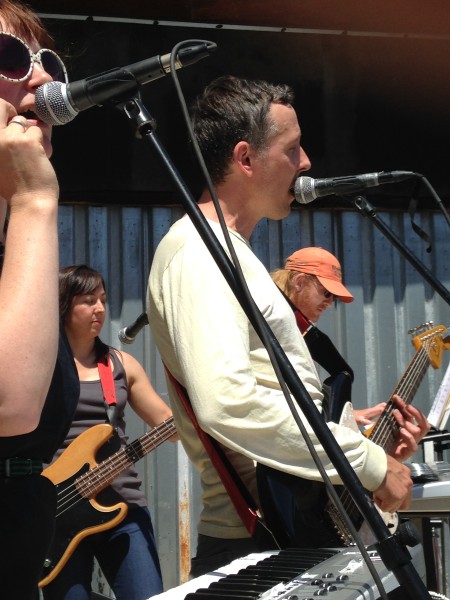 [photo by nyctaper]
The sun was so bright in the yard of Trans Pecos for Rocketship's afternoon show on Sunday that ToddP was passing around tubes of sunscreen to the crowd. It was that kind of day — friendly, fun and bright. The new outdoor area at Pecos was the perfect setting for Rocketship and Todd to do a throwback of sorts. Rocketship hasn't toured since the 90s and not entirely coincidentally they also played the first show ever booked by ToddP in Austin in 1996. The band was in town for the NYC Popfest (they're also playing the LA Popfest) but in the afternoon before their flight West they visited with old friends and old material in a setting that must have reminded them of their home in sunny California. Rocketship played everything from their first single ("Hey Hey Girl" streaming below) to several songs on the one full album they released on Slumberland Records, and indeed a couple of brand-new unreleased songs. Considering that the Rocketship catalog is a bit of a puzzle of singles, EPs, compilations, split-albums and long plays (excellent summary here), it was no small feat the band really quite democratically cherry-picked from seemingly all of their eras. But in the end, this show was all about the vibe — of which there were a ton of good ones. The band played forty-five minutes, but it easily could have been longer save for the plane the band had to catch. But for that near-hour, it was indeed a perfect day.
I recorded this set with the large diaphragm Neumann 102s set up at the front of the stage and mixed it with a fine board feed. The result is a superb recording of which we are very pleased. Enjoy!
Stream "Hey Hey Girl":

Stream "I Love You Like The Way That I Used To Do":

Download the Complete Show [MP3] / [FLAC]
Note: All of the material on this site is offered with artist permission, free to fans, at our expense. The only thing we ask is that you download the material directly from this site, rather than re-posting the direct download links or the files on other sites without our permission. Feel free to re-post the Soundcloud link. Please respect our request.
Rocketship
2014-06-01
Trans Pecos
Queens NY
Digital Master Recording
Soundboard + On-Stage Audience Matrix
Soundboard + Neumann TLM-102s > Edirol R-44 (Oade Concert Mod) > 2 x 24bit 48kHz wav files > Soundforge (level adjustments, mixdown, set fades) > CDWave 1.95 (tracking) > TLH > flac (320 MP3 and tagging via Foobar)
Recorded and Produced
by nyctaper
Setlist:
[Total Time 43:52]
01 Modern Livin
02 Your New Boyfriend
03 Oh Woe Is Me
04 Sleeping Pills
05 I'm Lost Without You Here
06 What's A Girl To Do
07 Carrie Cooksey
08 The Passersby
09 You'll Regret It Someday
10 Hey Hey Girl
11 Our New Track
12 I Love You Like The Way That I Used To Do
13 [banter – thanks]
14 Like A Dream
If you download this recording from NYCTaper, PLEASE SUPPORT Rocketship, visit the website of Non Stop Co-Op the label they co-own where much of the Rocketship catalog is available [HERE] You can also still purchase A Certain Smile, a Certain Sadness from Slumberland Records [HERE].