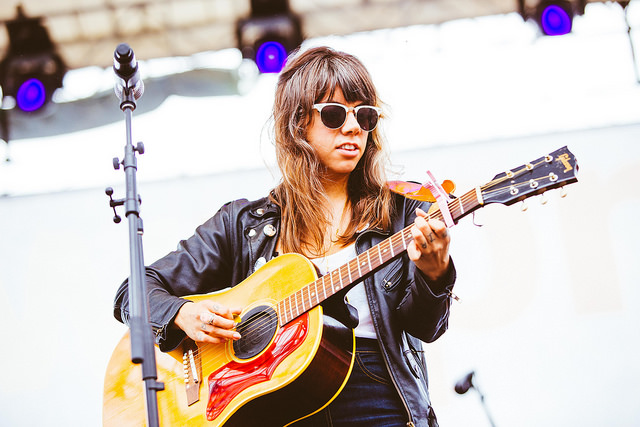 [photos courtesy of WXPN]
SUPPORT INDEPENDENT RADIO – DONATE TO WXPN HERE
The best way for an artist to maintain perspective in the lofty heights of current success is to remember from whence they came. Hurray For The Riff Raff have had a tremendously successful and well-deserved couple of years. Its a growth in stature that we've been both fortunate to experience first hand and for which we've unabashedly rooted. At last week's XPonential Fest, Hurray For The Riff Raff performed for the largest crowd before which we've ever seen them play. At the point when their set began, despite the wind and pouring rain, the amphitheatre of the River Stage at Camden Waterfront was packed and the pit was full with several thousand people. And while the band's set did rely heavily on their superb new album Small Town Heroes, it was the selection of what Alynda described as one of the first songs she ever wrote, and one she played during her days busking in New Orleans, that showed a perspective and humility about her current success. We're streaming "Here It Comes", which featured Alynda on banjo but with the full band treatment fits in quite nicely with the band's current material. Hurray For The Riff Raff will continue their active touring throughout the Fall, including stops at multiple festivals. And speaking of playing before thousands, their next show in NYC will be at Terminal 5.
I recorded this set with the new Schoeps CCM4U cardioids from directly in front of the soundboard and mixed it with the feed that was also broadcast live on WXPN. The use of the open air mics during this rainy set does contain some minor wind noise, but overall the sound quality is quite excellent. Enjoy!
Stream "Here is Comes":

Download the Complete Show [MP3] / [FLAC]
Note: All of the material on this site is offered with artist permission, free to fans, at our expense. The only thing we ask is that you download the material directly from this site, rather than re-posting the direct links or the files on other sites without our permission. Please respect our request
Hurray For The Riff Raff
2014-07-26
XPonential Festival
Camden, NJ
Digital Master Recording
Soundboard + Audience Matrix
Soundboard + Schoeps CCM4U's > Edirol R-44 (Oade Mod) > 2 x 24bit 48kHz wav files > Soundforge (level adjustments, mixdown, set fades) > CDWave 1.95 (tracking) > TLH > flac (320 MP3 and tagging via Foobar)
Recorded and Produced
by nyctaper
Setlist:
[Total Time 37:19]
01 Blue Ridge Mountain
02 Instrumental
03 Look Out Mama
04 Slow Walk
05 I Know It's Wrong
06 The Body Electric
07 Lake OF Fire
08 Here It Comes
09 [thanks]
10 End Of The Line
11 Little Black Star
If you Download this recording from nyctaper, we expect that you will PLEASE SUPPORT Hurray For The Riff Raff, visit their website, and purchase Small Town Heroes from the ATO Records website [HERE].