Follow @acidjacknyc



[photos by acidjack]
The Hopscotch Music Festival, held in Raleigh, North Carolina, has made it five years — not quite an eternity in a world of corporate music festivals like SXSW and Lollapalooza, but a rare achievement for an organically grown festival in a "midsize market" that has proven over and over that they are willing to take chances. Hopscotch is the festival willing to put a heavy metal band on its largest, outdoor, downtown stage on its Saturday night, rather than a more accessible mainstream act.  Hopscotch dedicates entire venues, at various times, to genres like experimental noise, ambient, thrash, black metal, and indie hip-hop. It is hosted in a city whose good humor and kindness borders upon unreal, sprawled across a fast-growing downtown, and unlike the best-known festival that attempts to use an entire city's music venues as part of its sprawl, it opens everything to everyone, not reserving entry to "the big stuff" for the connected and the corporate.
Hopscotch, then, has much in common with The War on Drugs. I'll make this bold claim now: they are the best rock act who has released an album this year. They didn't get to that point quickly, or with flash, or with marketing, or even at times with buzz, though we did our best over here at this site. Three years ago, we caught them opening at Bowery Ballroom for Sharon Van Etten, another artist whose acclaim grew slowly on the back of honesty and hard work. This band grew on the back of the validity of their mission, the honesty of their approach, and their hard, hard work. Just like Hopscotch.
Adam Granduciel's herculean writing and arranging on Lost In the Dream is well documented. He has applied that same intensity to the expanded live show for this tour, which we first caught on back to back dates in March, including the band's rather hyped cover of "Mind Games". Not every band's play for the big time might include a bunch of double-radio-length songs, but not every band is The War on Drugs. What we got here at Raleigh's Lincoln Theatre was a set that resembled some of what we heard back in March, including the expanded band that includes Jon Natchez on keyboards. A packed and somewhat chatty room got to see the band joined by local music maven Brad Cook of Megafaun on "Ocean" followed by a searing rendition of "Red Eyes" and closing the main set on the album's title track. The highlight of the encore was another rare cover, Bill Fay's "I Hear You Calling", which ended my first night of Hopscotch in exactly the right way. If you don't see another act this year, go see The War on Drugs, a band whose heart matches their massive sound, bound for the arenas they deserve.
I recorded this set with Schoeps MK41 supercardiod microphones at the soundboard rather than our preferred spot in Lincoln Theatre that is a bit closer. Due to technical issues a soundboard feed was not available, and there is some enthusiastic audience chatter on this that makes the sound inferior to the two recordings from March, though still quite good. Plenty more Hopscotch recordings will be coming 0ver the next month or so as well. Keep your eyes on this space.
This recording is now hosted on the Live Music Archive.  Download the complete show via these links: [MP3] | [FLAC]
Stream "I Hear You Calling" [Bill Fay]

Stream the full set:

Note: All of the material on this site is offered with artist permission, free to fans, at our expense. The only thing we ask is that you download the material directly from this site, rather than re-posting the direct links or the files on other sites without our permission. Please respect our request.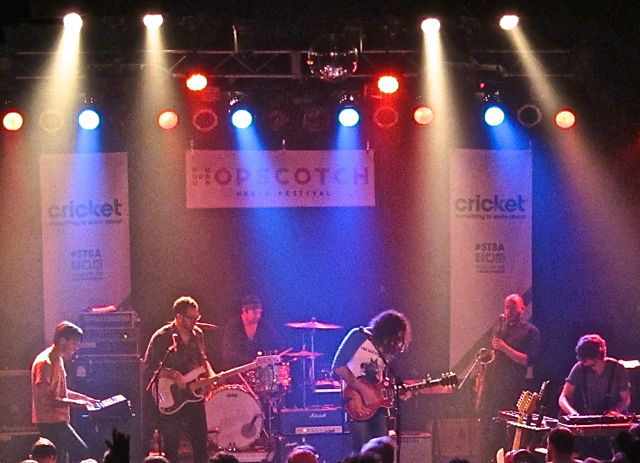 The War on Drugs
2014-09-04
Hopscotch Music Festival
Lincoln Theater
Raleigh, NC USA
Hosted at nyctaper.com
Recorded and produced by acidjack
Schoeps MK41 (DINa, at SBD)>KCY>Z-PFA>Sound Devices USBPre2>Edirol R-44 [OCM]>24bit/48kHz WAV>Izotope Ozone 5 (effects)>Audacity 2.0.3 (fades, mix down, tracking, amplify, balance, downsample, dither)>FLAC ( level 8 )
Tracks [Total Time 1:32:48]
01 Burning
02 Comin' Through
03 Eyes to the Wind
04 Under the Pressure
05 In Reverse>
06 An Ocean In Between the Waves
07 [banter]
08 Brothers [with Brad Cook of Megafaun]
09 Baby Missiles>
10 Suffering
11 [banter2]
12 Red Eyes
13 Lost in the Dream
14 [encore break and segue music]
15 Disappearing
16 Your Love Is Calling My Name
17 I Hear You Calling [Bill Fay]
If you enjoyed this recording, PLEASE SUPPORT The War on Drugs, visit their website, and buy Lost In the Dream from Secretly Canadian.