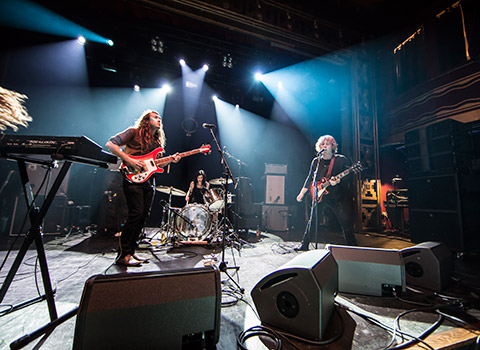 [photos by PSquared Photography – complete set at brooklynvegan]
I'm not sure there is a currently working musician who produces as consistently excellent music — live or on record — at does Ty Segall. His new album Manipulator is yet another Ty album that shines from start to finish and the tour in support has raged from city to city. Last week Ty Segall came to NYC for two shows at Webster Hall (alas no secret DBA show) and we were there for the first night on Wednesday. Ty's fans always vociferously exhibit their love for his music and this night was no different. Five songs into the set the venue's crew had to remove the metal photo pit barrier to avoid crushing people to death. After a quick break, the set continued in earnest and the new space permitted a neverending parade of stage divers and jumpers, including ultimately the artist himself. The setlist was similar to most recent tours in that the band played most of the new album (in this case 13 of 17 tracks) before the second half of the night was dedicated to the older material. But the crowd was with them all the way — old or new — for the full ninety minute set. We're streaming one of our favorite tracks from the new album "Green Belly". Ty Segall's US tour is coming to a close in the next few days, but he'll then spend six weeks touring through Europe.
I recorded this set from the soundboard perch in the front and center below the balcony with the Schoeps cards mixed with an excellent feed from house FOH Rafael. The sound quality is superb. Enjoy!
Stream "Green Belly":

Download the Complete Show [MP3] / [FLAC]
Note: All of the material on this site is offered with artist permission, free to fans, at our expense. The only thing we ask is that you download the material directly from this site, rather than re-posting the direct links or the files on other sites without our permission. Please respect our request.
Ty Segall
2014-09-17
Webster Hall
New York NY
Digital Master Recording
Soundboard + Audience Matrix
Soundboard + Schoeps CCM4u Cardioids > Edirol R-44 (Oade Concert Mod) > 2 x 24bit 48kHz wav files > Soundforge (level adjustments, mixdown, EQ, set fades) > CDWave 1.95 (tracking) > TLH > flac (320 MP3 and tagging via Foobar)
Recorded and Produced by nyctaper
Setlist:
[Total Time 1:20:11]
01 Manipulator
02 Its Over
03 The Connection Man
04 Tall Man Skinny Lady
05 Feel
06 [banter – barricade]
07 The Faker
08 The Singer
09 The Clock
10 Green Belly
11 [banter – carry me]
12 Don't You Want to Know (Sue)
13 Susie Thumb
14 The Crawler
15 The Feels
16 You're the Doctor
17 Slaughterhouse
18 [Sweater Song tease]
19 I Bought My Eyes
20 [band introductions]
21 Imaginary Person
22 Caesar
23 Wave Goodbye
24 [encore break]
25 Fire on the Mountain [Wand]
26 Thank God for Sinners
27 I Wear Black
28 Girlfriend
If you download this recording, we expect that you will PLEASE SUPPORT Ty Segall, visit his website, and purchase Manipulator from the Drag City Records website [HERE].