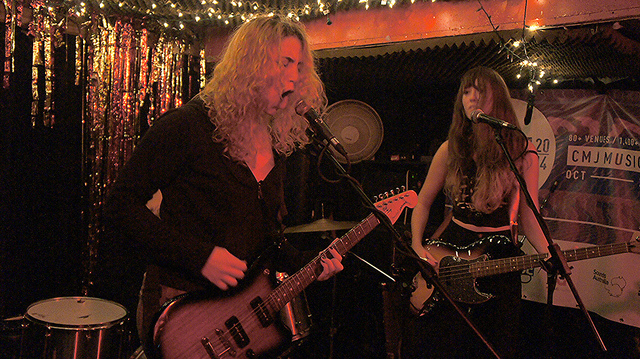 [photos by Dean Keim]
Its been an eventful 2014 for Whiskey Bitches. Since our last visit for their impressive set at Death By Audio (RIP) in April, the band has played a ton of shows, released two videos, and self-released their second EP, the four-song Never Enough. During CMJ week, Whiskey Bitches played 6 shows, with ours falling in the middle. The band was on early, but even with some performance and party hangovers they managed to draw a crowd and play their typically energetic set. The setlist contained three of the four songs from the EP and two excellent new numbers. We're streaming the lead track of the EP, "Disaster".
Tonight (December 5) you can see Whiskey Bitches live at Cake Shop.
Acidjack recorded this show in the exact same manner as the previous sets from this show (Schoeps Onstage + SBD) and the sound quality is equally superb. Enjoy!
Stream "Disaster":

Download Complete Show [MP3] / [FLAC]
Note: All of the material on this site is offered with artist permission, free to fans, at our expense. The only thing we ask is that you download the material directly from this site, rather than re-posting the direct links or the files on other sites without our permission. Please respect our request, and feel free to repost the Soundcloud links.
Whiskey Bitches
2014-10-23
NYCTaper CMJ Day Party
Cake Shop
New York, NY
Digital Master Recording
Soundboard + On Stage Audience Matrix
Schoeps MK4V (stage lip) > KC5 > CMC6 + Soundboard (engineer: Clint) > Edirol R-44 [OCM] > 2x24bit/48kHz WAV > Soundforge (level adjustments, mixdown, set fades) > CDWave 1.95 (tracking) > TLH > flac (320 MP3 and tagging via Foobar)
Recorded by acidjack
Produced by nyctaper
Setlist:
[Total Time 21:59]
01 Funemployed
02 Disaster
03 [banter]
04 Blackout
05 White Knight
06 Time Wasted
07 Always
08 Cookies
If you download this recording from NYCTaper we expect that you'll please support Whiskey Bitches, like them on Facebook  and purchase their Never Enough EP from their Bandcamp page [HERE].