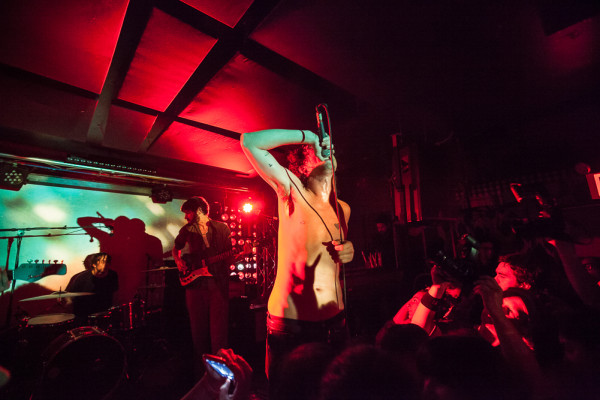 [photo courtesy of Gretchen Robinette – full set at Impose Magazine]
Fat White Family is not a subtle band. In an era of "chill wave" and "chamber pop" and "nu gaze", these former South London squatters are loud, rude, and beholden to no artificially-defined style. If you want to know what type of music they make, just consult one of the band's song titles — "I Am Mark E. Smith". And while the music of The Fall is clearly an influence, Fat White Family doesn't simply sneer. They sweat, spit, expose themselves and generally make a depraved mess of the whole thing. But don't let the stage antics hide that musically, Fat White Family is an entertaining band playing a contemporary British garage rock. Their debut album Champagne Holocaust was originally self-released but after gaining some notoriety in the UK — positively and negatively, the album has been released in the US by Fat Possum Records. The band was in the States for a while in the Fall and made a splash during CMJ for not only their music but the stage antics. In December, Fat White Family did a two-week residence at Baby's All Right and we caught the final night in what would be the band's last show in the US until March of 2015. This set is a full one and perhaps the longest time-wise of all of the recent US shows, encompassing basically all of the songs the band worked up for the live show which includes much of Champagne Holocaust and only two older tracks, the aforementioned "Smith" and the band-name-generating "Bomb Disneyland". We're streaming "Heaven on Earth" which begins and carries through with a familiar surf-garage guitar line that makes the song perhaps the most accessible of the set. Fat White Family will return to the US in March and we'd recommend catching their highly entertaining show at least once.
This set was recorded by House FOH Devin, who provided a superb live mix of the multitrack. There are also cardioid microphones installed on the lighting rig about 15 feet in front of the stage. In post-production, I mixed the two sources and the results are quite excellent. Enjoy!
Stream "Heaven on Earth":

Download the Complete Show [MP3] / [FLAC]
Note: All of the material on this site is offered with artist permission, free to fans, at our expense. The only thing we ask is that you download the material directly from this site, rather than re-posting the direct links or the files on other sites without our permission. Please respect our request, and feel free to repost the Soundcloud links.
Fat White Family
2014-12-20
Babys All Right
Brooklyn, NY USA
Digital Soundboard + Audience
Multitrack Recording
Multitrack Soundboard (engineered and recorded by Devin Foley) > Devin mix Wav files + Room mic wav files > Soundforge (level adjustments, setfades) > CDWave 1.95 (tracking) > TLH > flac (320 MP3 and Tagging via Foobar)
Produced by nyctaper
Setlist:
[Total Time 53:10]
01 Auto Neutron
02 Is It Raining In Your Mouth
03 Heaven on Earth
04 I Am Mark E Smith
05 Wild American Prairie
06 Special Ape
07 Cream of the Young
08 Touch the Leather
09 Wet Hot Beef
10 Garden of the Numb
11 Bomb Disneyland
If you download this recording from NYCTaper, we expect that you will PLEASE SUPPORT Fat White Family, visit their Facebook page, and purchase Champagne Holocaust from the Fat Possum Records website [HERE].