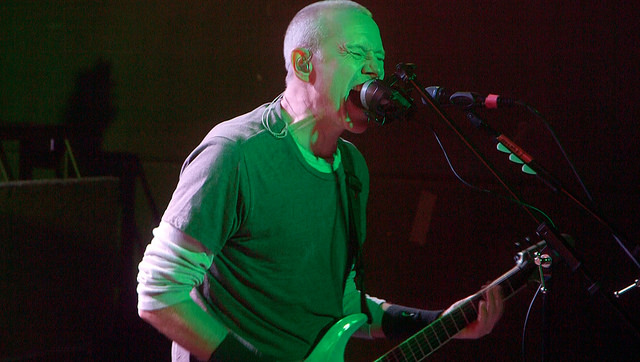 [photos courtesy of unartignyc – his excellent video below]
Helmet is taking a look back this tour and celebrating the 20th anniversary of their seminal album Betty beginning each show by playing the album straight through. On Sunday night the band added a special wrinkle by playing a small club the size of which they haven't played in years. As Page Hamilton noted at the first break in the action, the "first Helmet show ever" was played at a club very similar in style, location and size to Saint Vitus — the late great Lauterbach's in Brooklyn. For a time in the 80s and 90s, Lauterbach's was the place for punk, hardcore and metal in the "outer boroughs". And out it was, all the way in the South Slope on Prospect Avenue. And like the long gone venue, Helmet themselves are a product of that era in Brooklyn. As the band's founder and only remaining original member Hamilton was a known quantity in music circles when Helmet formed in 1989, but there was a period when places like Lauterbach's were their venues of choice. Helmet would go on to play a vast arragy of huge venues in the 1990s. While Saint Vitus in 2015 is an established and well-respected home for heavy music, its nice to see that Page has a sense of history — respect enough for the band's legion of fans — to return to his roots and come "full circle" as he described. For this set, Helmet ripped through Betty in forty-five minutes staying pretty close to the album's sound. The final half of the show has varied throughout this tour and on Sunday we got some rare oldies and of course the hits. I was particularly impressed with the raging extended version of "Driving Nowhere" which gave Page a chance to stretch out and display his guitar chops. We are streaming that track below. The Betty tour continues in the US and Canada through the end of March, dates here.
I recorded this set with the Schoeps mounted in front of the soundboard and mixed with a feed that Page earlier in the week had encouraged us to use. The sound quality is superb. Enjoy!
We also recorded the Bowery Ballroom show on Saturday and that will be coming very soon.
Download the Complete show [MP3] / [FLAC]
Stream "Driving Nowhere":

Stream "Biscuits for Smut":

Note: All of the material on this site is offered with artist permission, free to fans, at our expense. The only thing we ask is that you download the material directly from this site, rather than re-posting the direct links or the files on other sites without our permission. Please respect our request, and feel free to repost the Soundcloud links
Helmet
2015-02-22
Saint Vitus
Brooklyn NY
Digital Master Recording
Soundboard + Audience Matrix
Soundboard + Schoeps CCM4u Cardioids > Sound Devices 744t > 2 x 24bit 48kHz wavs > Soundforge (mixing) > CDWave 1.95 (tracking) > TLH > flac (320 MP3/tagging via Foobar)
Recorded and Produced by nyctaper
Setlist:
[Total Time 1:39:49]
01 Wilma's Rainbow
02 I Know
03 Biscuits for Smut
04 [banter Lauterbach's]
05 Milquetoast
06 Tic
07 Rollo
08 Street Crab
09 Clean
10 Vaccination
11 Beautiful Love
12 Speechless
13 The Silver Hawaiian
14 Overrated
15 Sam Hell
16 [intros – Pariah story]
17 It's Easy To Get Bored
18 So Long
19 Renovation
20 [banter – the ghost]
21 You Borrowed
22 Diet Aftertaste
23 Bad Mood
24 Driving Nowhere
25 [banter – bass player]
26 FBLA
27 Unsung
28 On Your Way Down
29 [encore break]
30 Iron Head
31 In the Meantime
If you download this recording from NYCTaper, we expect that you will PLEASE SUPPORT Helmet, visit their website, and purchase their official releases, including Betty, directly from their web store [HERE] or from your favorite online retailer.