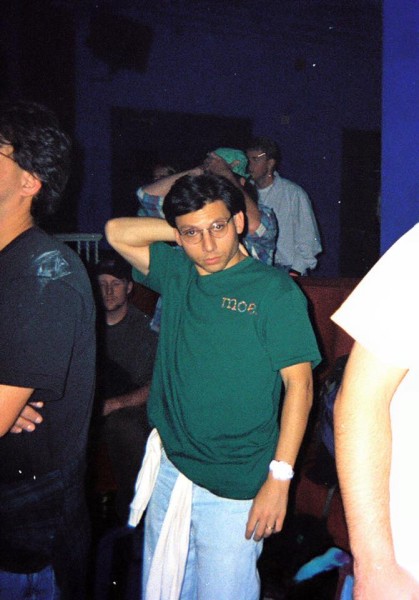 [Eric in 1996 at a moe. show – photo courtesy of Craig Hillwig and Eric Vandercar: In Memoriam]
If the horrific Metro North crash on February 3, 2015 that took the life of my friend Eric Vandercar and five others taught me anything it was only to reinforce the notion that life is inherently unfair and at times utterly senseless. Eric was a superior individual — a man with a profoundly successful career, a wonderful family and a large variety of engaging and eclectic interests. The news reports have described him as a "banker", which is kind of like describing Lincoln as a politician. Eric was at the forefront in the creation of varieties of municipal bonds, essentially for nearly thirty years creating the finance mechanisms that allow cities to raise funds for development. In his free time Eric was also one of the most prolific and knowledgeable tapers of the last twenty years. He was also a skier, a diver, and a world traveler. Ultimately, there was very little that Eric Vandercar did not do in his too-short 53 years of life. But here we are two weeks removed from the accident, and its time that I choose to rise above the anger and the sadness and begin the healing process by remembering Eric for the good he brought to this world in the best way I know how — the recorded music.
In a way, Eric and I lived parallel lives. When we were both newly married and living a short distance apart in NYC we spent a lot of time together going to shows locally and on the road from about 1996 to 1999. When each of us had children and when the Vandercars moved upstate, we saw each other infrequently. But with Eric, it was easy to pick up where we'd left off before. The last time I saw him we chatted for a while in the taper's section at a Phish show on Randall's Island, and talked about those old days when we'd sit for hours in his Elizabeth Street apartment and listen and swap the latest DAT recordings.
One of the more memorable trips I made with Eric was the moe. Halloween show in Utica NY in 1998. On previous roadtrips we'd gone with groups of tapers but for this weekend jaunt it was just the two married couples driving north in Eric's SUV. I'd never been to Utica (before or since) but my memory was a small city similar to countless others in Upstate New York. We'd booked a hotel a short walk from the venue — a classic old theatre that had been renovated and renamed the Stanley Performing Arts Center. moe. were dressed in holiday costumes and kicked of the show with a straight forward "Reaper" cover before working through familiar material from this era in the band's history. The show is notable for the appearance of a then-obscure local guitarist Joe Bonamassa, who has subsequently gone on to have a terrific career including a Grammy nomination in 2013. Other highlights include a very lengthy segment in the second set of Timmy > Brent > Moth with varied teases and short jam interludes in the suite.
This show was recorded by Eric with his trademark B&K 4021 microphones from a position at the front and center of the balcony. I had a seat on the floor, so before the show I gave Eric my Sony portable DAT deck and a couple of tapes and he did the rest patching my deck into his deck. So while I technically have "master" tapes, these are really "ericv" masters. His master of this show has not previously circulated before now.
On playback, the second set was extracted flawlessly but the first set had a few bits of digital static. It took me three plays to get this transfer of the first set. Not bad for a pair of seventeen year old DATs that I don't remember ever actually playing.
I will be extracting more of Eric's DATs in the immediate future and posting them here. In a very large way, NYCTaper would not have existed without the influence of Eric Vandercar on my own personal approach to taping and trading. I'll be talking about that influence in future posts.
This Recording is available for Download in Flac and MP3 at Archive.org [HERE]. Stream the entire show below.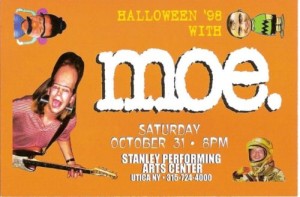 moe.
1998-10-31
Stanley Performing Arts Center
Utica NY
Digital Master Recording
FOB Audience – First Row Center Balcony
B&K 4021 > Apogee AD-1000 > Tascam DA-P1 > Sony PCM M-1 DAT Master
DAT Master > Sony PCM R-300 > Sound Devices 744t > 2 x 16/44 wav files > Soundforge (mastering) > CDWave 1.95 (tracking) > TLH > flac
Recorded by Eric Vandercar (ericv) (nyctaper DAT patch)
Produced by nyctaper
Setlist:
Set 1
[Total Time 1:03:08]
01 Don't Fear the Reaper [Blue Oyster Cult]
02 Akimbo
03 [banter – hell night]
04 Jazz Wank
05 Spaz Medicine
06 Buster
07 [banter – Utica]
08 Blue Eyed Son
09 [banter – canned food]
10 32 Things
Set 2
[Total Time 2:00:07]
11 Bring It Back Home
12 [banter – Joe intro]
13 Sensory Deprivation Bank*
14 Timmy Tucker
15 Brent Black
16 Moth
17 [encore break]
18 Plane Crash
19 Freebird [Lynyrd Skynyrd]
*with Joe Bonamassa on guitar
If you download this recording, we expect that you will PLEASE SUPPORT moe., visit their website and purchase their official releases from the moe. store here.