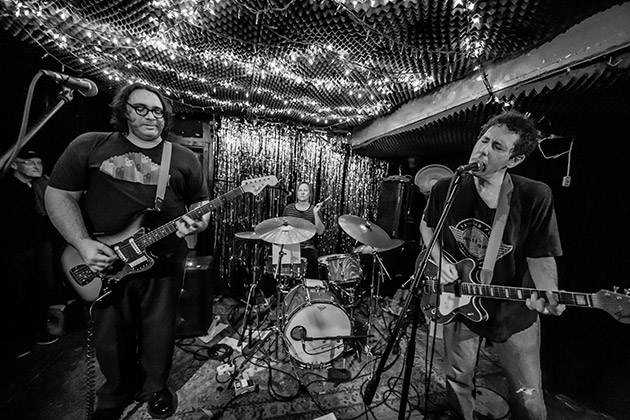 [photos by PSquared Photography]
The Lower East Side venue Cake Shop has lived in many ways a parallel existence to we here at NYCTaper. We've recorded and posted shows from Cake Shop somewhere in the range of one hundred occasions. We've hosted our annual CMJ day parties at Cake Shop for seven consecutive years. This year the venue is celebrating its 10th year (we just had our 8th anniversary), and the next few months will see some very special events. On Friday night it was an event that was literally a perfect match for NYCTaper. The show featured Yo La Tengo — a band very familiar to our readers — in their alter-ego guise as garage-rock band Condo Fucks. We've also captured the most recent Condo Fucks shows in the area, including the band's last-ever show in venue at Maxwell's in 2013, which I believe is the last time Condo Fucks actually played a show.
I'll admit that it was somewhat surreal to see the three members of Yo La Tengo enter tiny basement stage at Cake Shop. We've seen hundreds of bands on this stage, but perhaps never one of the kind of legendary status that YLT possesses. The set began as all of the Condo Fucks shows we've seen have begun, with the instrumental Booker T track "Outrage" before the band personalized the Harmonics song "On the Warpath". The remaining set-proper was a high-energy run through the band's usual garage covers — Rascals, Flamin Groovies, The Exciters and the like. At the mid-set mark, the Condo Fucks were joined by long-time friend Gaylord Fields ("The Great Gaylord") on vocals for a four-pack of songs that we've never seen the band perform before. The clear highlight was the extended version of the Swamp Dogg cult classic "Total Destruction To Your Mind" which we're streaming below. A Condo Fucks show is a rare event and it was a very classy move that Yo La Tengo celebrated Cake Shop's 10th Anniversary by treating the venue to this special show.
I recorded this set with the Sennheiser cards mounted in a thread above the stage and mixed with a board feed. The on-stage mics captured the instruments with great clarity and the board feed was used to fortify the vocals. The result of the mix is a very well-balanced recording with superb sound. Enjoy!
Download the Complete Show [MP3] / [FLAC]
Stream "Dog Meat" (Flamin Groovies cover):

Stream "Total Destruction To Your Mind" (Swamp Dogg cover – featuring the Great Gaylord on vocals):

Condo Fucks
2015-05-22
Cake Shop
New York, NY
Digital Master Recording
Soundboard + On Stage Audience Matrix
Soundboard + Sennheiser MKH-8040s > Sound Devices 744t > 2 x 24bit 48kHz wav files > Soundforge (post-production) > CDWave 1.95 (tracking) > TLH > flac (320 MP3
and tagging via Foobar)
Recorded and Produced
by nyctaper
Setlist:
[Total Time 57:31]
01 Outrage [Booker T and The MGs]
02 Condo Fucks on the Warpath [Harmonics]
03 So Easy Baby [The Zantees]
04 I Want You To Be My Boy [The Exciters]
05 Accident [Electric Eels]
06 Right Side of My Mind [Angry Samoans]
07 Tiger In Your Tank [Muddy Waters]
08 Get Down [Half Life]
09 Look Back In Anger [Television Personalities]
10 Dog Meat [Flamin Groovies]
11 Come On Up [Young Rascals]
12 Re-Make Re-Model [Roxy Music]
13 [Great Gaylord intro]
14 TV Eye [The Stooges]
15 Falling in Love Again
16 It Hurts To Be In Love [Toombs/Dixon]
17 Total Destruction To Your Mind [Swamp Dogg]
18 [encore break]
19 Whatcha Gonna Do [Small Faces]
Thanks to Jesse for setlist!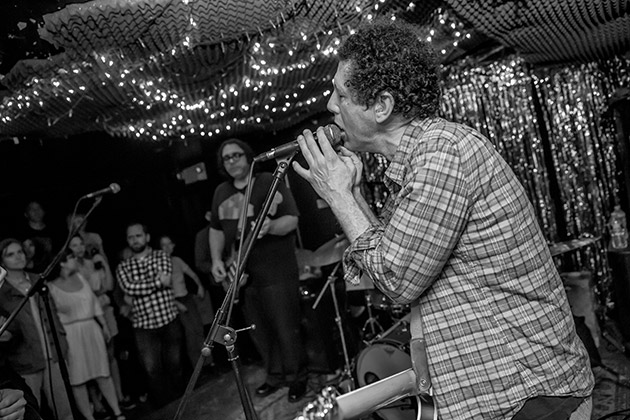 If you download this recording from NYCTaper we expect that you will PLEASE SUPPORT Yo La Tengo, visit their website, and purchase their official releases (including Condo Fucks) from Matador Records [HERE].