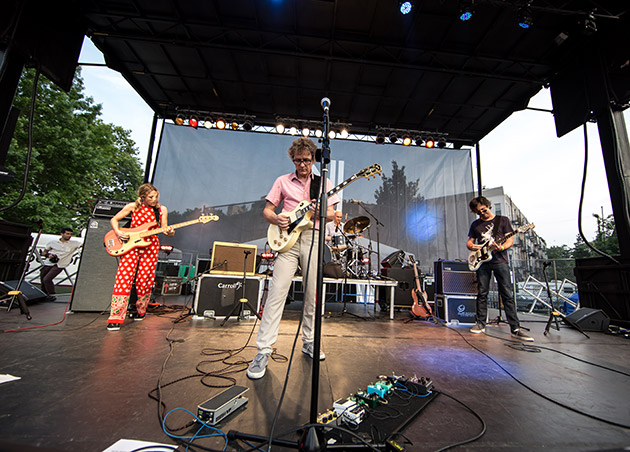 [photos by PSquared Photography]
Luna's first show in New York in 10 years was one of those damned-near perfect evenings that pretty much represents why we do what we do here at NYCTaper. On a beautiful night, one of the great New York bands in recent memory played a superb show before a huge crowd for the opening night of the Northside Festival. Dean Wareham and Britta Phillips are married, perform often together, and live in LA where they are friendly with drummer Lee Wall, and the couple have also played with guitarist Sean Eden on a few occasions, including a show we recorded in 2012. So, the Luna reunion was by no means a surprising event, but it was so sweet in its fruition.
The first reunion show this year was a night in LA in April, and then the band played sixteen dates in Spain and Portugal (Dean's tour diary is a great read). When they returned to the US for this one-off Brooklyn show the band was in sync, relaxed and poised to deliver. From the opening "Slide", the first song on the first album, through personal favorite "California" (streaming below) and continuing with a career-spanning setlist the show never really let up with the positive energy. The between-song banter also indicated that the band was both having fun playing and having fun being together. Several times the band acknowledged specific uber-fans, people wearing vintage Luna t-shirts, and various landmarks on the NYC skyline. Dean has remarked that Sean Eden has never played better guitar and on this night Sean seemed to be having the time of his life. The show was also special because the night was Britta Phillips birthday and the band acknowledged that fact early in the set. The main set concluded with an incendiary eight-minute long "23 Minutes in Brussels" (which we are also streaming below), before the band returned for two well-deserved encores including their cover of Beat Happening's "Indian Summer".
Luna returns to NYC for three sold-out shows at the Bowery Ballroom (October 7 and 8) and Music Hall of Williamsburg (October 9). All dates here.
I recorded this set with the Schoeps cards mounted in front of the soundboard cage and mixed with an excellent feed. The wind was not too bad but can be heard a few times, but fortunately the board cage was moved closer to the stage this year so that the audience feed is quite good. This mix favors the audience feed by about 60/40, giving it a nice "you are there" feel with the board used as a supplement to fortify the overall sound. The result is a superb recording that we feel fairly represents this great night. Enjoy!
Download the Complete Show [MP3] / [FLAC]
Stream "California":

Stream "23 Minutes in Brussels"

Luna
2015-06-11
McCarren Park
Northside Festival
Brooklyn NY
Digital Master Recording
Soundboard + Audience Matrix
Soundboard + Schoeps CCM4u Cardioids > Sound Devices 744t > 2 x 24bit 48kHz wav files > Soundforge (post-production) > CDWave 1.95 (tracking) > TLH > flac (320 MP3 and tagging via Foobar)
Recorded and Produced by nyctaper
Setlist:
[Total Time 1:28:06]
01 Slide
02 California
03 Malibu Love Nest
04 Chinatown
05 Sideshow by the Seashore
06 Speedbumps
07 Tiger Lily
08 [happy birthday Britta]
09 Tracy I Love You
10 Bewitched
11 [banter – first show in 10 years]
12 Friendly Advice
13 Pup Tent
14 [banter – Pan Am building]
15 Lost in Space
16 [banter – broken string]
17 Moon Palace
18 Twenty Three Minutes in Brussels
19 [encore break]
20 Time to Quit
21 Indian Summer [Beat Happening]
If you Download this recording from nyctaper, we expect that you will PLEASE SUPPORT Luna, visit their website, and purchase their official releases from the links at their website, from Bandcamp and the Long Players Box Set from Captured Tracks Records [HERE].