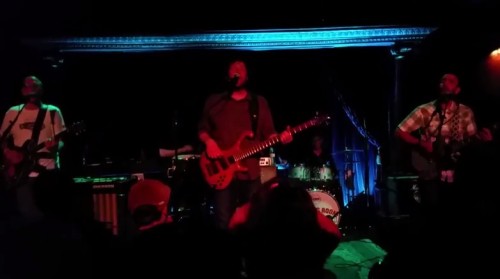 [still from this video]
Its a nice little bit of synchronicity that today June 2 marks the 20th anniversary since the first time I saw moe. live. I attended that show at the late lamented Brownies on Avenue A after reading about the band in the print edition of the Village Voice. At that point, moe. was a new-ish band from Upstate that had just started to get some attention outside of their home region. By the end of the 1995, the band would never look back and clubs the size of Brownies were soon a thing of the past. But every once in a while, moe. returns to their roots and on Sunday night they played a semi-surprise show at the 200-capacity venue The Cutting Room on East 32nd Street.
The size of the venue meant that we were happy to run into a lot of old friends and that gave this show a nice intimate feel. The band seemed to recognize that and opened with several of their older numbers, including a monster "Timmy Tucker" — a song also played at Brownies two decades ago. The second set stepped into the present day, as the band proved that the potential that they showed all those years ago has become fully realized. This is a performing unit that has such an intuitive ability to read and react to each other so well that the transitions in the improv sections are stunningly tight. This set contained mostly instrumental passages built around the song "Kids", which began and ended the set. In between we got a nice oldie in "Brent Black", a powerful drum interlude, and two late-era instrumental numbers. We'll see moe. again on a big stage at Mountain Jam this coming weekend, but for this one night it was fun to take a trip back to the old intimate venue shows.
I recorded this show from our little makeshift taper's section in the middle of the floor about 20 feet from the stage. I utilized the Grace V3 in front of the Schoeps cards to add a little warmth and presence to what was essentially an "upfront" recording. Other than some fairly persistent crowd chatter (louder in the first set), the overall quality of this recording is quite outstanding. Enjoy!
This Recording is Available for Download in FLAC and MP3 at Archive.org [HERE].
Stream the Complete Show:

moe.
2015-05-31
Cutting Room
New York NY
Digital Master Recording
FOB Center Audience
Schoeps CCM4u Cardioids > Grade Design Lunatec V3 > Sound Devices 744t > 24bit 48kHz wavs > Soundforge (post-production) > CDWave 1.95 (tracking) > TLH > flac
Recorded and Produced by nyctaper
Setlist:
Set 1
[Total Time 1:15:02]
01 St. Augustine
02 It
03 Up On Cripple Creek
04 Timmy Tucker
05 Tailspin
06 Hi and Lo
07 Little Miss Cup Half Empty
Set 2
[Total Time 1:37:57]
08 Kids
09 Skrunk
10 Zed Naught Z
11 Brent Black
12 McBain
13 Kids (reprise)
14 [encore break]
15 Akimbo
If you download this recording, we expect that you will PLEASE SUPPORT moe., visit their website and purchase their official releases from the moe. store here.