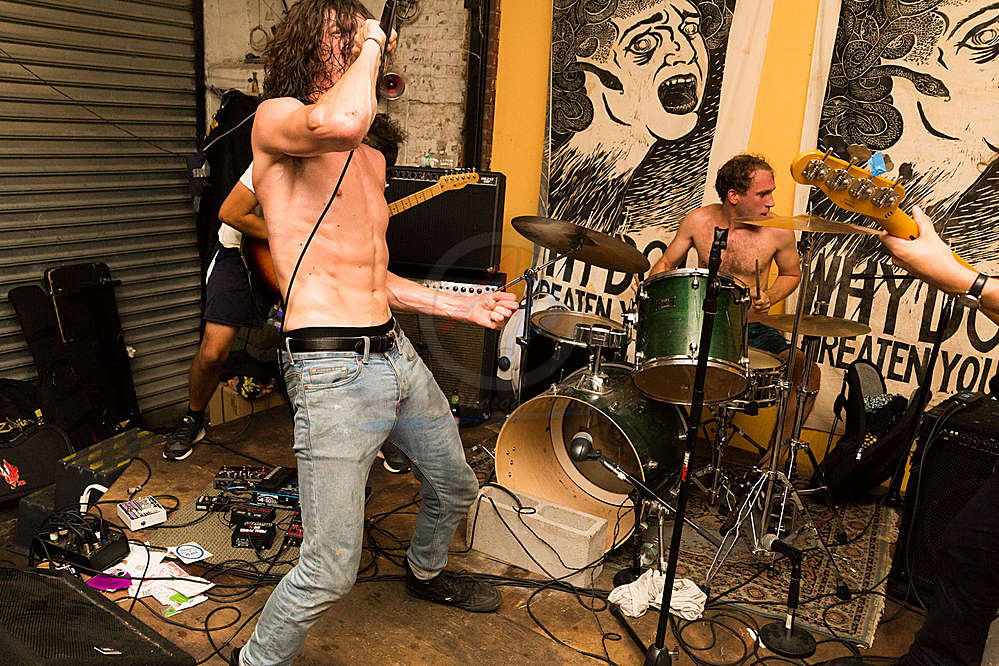 [photos courtesy of Anyane Photography]
The scruffy and sardonic Baltimore post-punk band Dope Body is supposedly named for "an online video the band enjoyed," but as you watch the shirtless frontman Andrew Laumann contort his sweat-slicked self all over the stage, you have to wonder if the name isn't a little bit of a self-referential gag.  In fairness, it felt like 110 degrees inside the cozy Brooklyn DIY venue Aviv on this particular night, so showing off the man's fitness level might have just been a matter of necessity. On firmer ground, I can tell you that this band brings an instant presence to any stage they inhabit, and the way their music combines the heavy noise with just-enough tuneful accessibility only adds to the need to pay attention. They're several albums in now, with the latest, Kunk, released this month on Drag City. More new songs, as evidenced by the set, are already in the tank. If the band's previous record, Lifer, earned some (undeserved) commentary about increased accessibility and even the dreaded "grunge" tag at points, there's no making any mistake about where any of this material falls live.
The band hits extremely hard, Zachary Utz's guitars scraping against Laumann's gritty, snarling vocals, as David Jacober pounds the skins in the thick of John Jones' basslines. The set jumped around the band's catalog, but it's hard to deny the brand-new numbers, one unnamed, as well as "Enemy Outta Me" which has been making the rounds on recent sets. The skronky "Hired Gun" might qualify as the band's most mainstream-approaching single, and it came through well on this night before the one-two punch of the older "Leather Head" followed by Kunk's "Old Grey." The proceedings ended just shy of forty minutes in. By then, we might not all have been as drenched as the band, but most of us had been reminded what "sweaty" rock n' roll really means.
Dope Body are on tour right now in Europe, and anyone with the opportunity over there ought to catch them at one of these dates.
I recorded this set with a soundboard feed from Aviv engineer John, as well as Schoeps MK4V microphones mounted in the center on the balcony. The sound quality is excellent. Enjoy!
Download the complete set: [MP3/FLAC]
Stream the complete set:

Dope Body
2015-09-03
Aviv
Brooklyn, NY USA
Exclusive download hosted at nyctaper.com
Recorded and produced by acidjack
Schoeps MK4V (PAS)>KC5>CMC6 + Soundboard (engineer: John)>>Roland R-26>2×44.1kHz WAV>Adobe Audition CS 5.5 (mix down, compression, fades)>Izotope Ozone 5 (EQ, effects, imaging)>Audacity 2.0.5 (track, amplify, balance, dither)>FLAC ( level 8 )
Tracks
01 [intro]
02 Road Dog
03 [new song 1]
04 Enemy Outta Me
05 Day By Day
06 Hired Gun
07 Leatherhead
08 Old Grey
If you enjoyed this set, PLEASE SUPPORT Dope Body, visit their Facebook page, and buy their records from Drag City. (You have to, since you can't stream 'em).