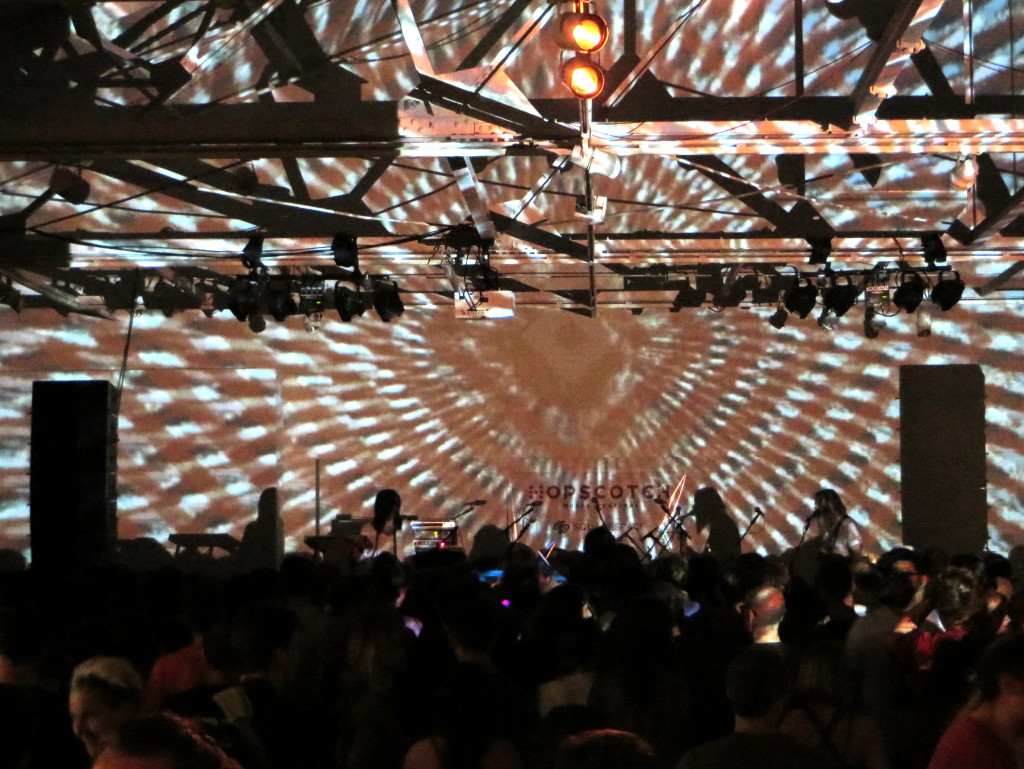 [photos courtesy of Rumbleseat]
Moon Duo anchored a night of psychedelic and punk music in Raleigh's Contemporary Art Museum on the second night of Hopscotch Music Festival. We caught up with the band earlier this year at Rough Trade, but weren't able to catch this Hopscotch set. Luckily, our man "Rumbleseat" was in attendance, and captured this band in all its glory, against a fractal backdrop that felt right at home in the cavernous CAM. As with the Rough Trade set, Moon Duo moved around their catalog a bit, including material from their latest Sacred Bones release, Shadow of the Sun. We were especially happy to get to hear a live version of "Free Action," which we didn't get to see at their recent sets in New York. This performance no doubt set the mood for the heads who stuck around to see Roky Erickson do his thing to finish the night. Clearly, Moon Duo learned some lessons from him, and more.
Rumbleseat recorded this set with two sets of mics, Church Audio CA-11s on the ceiling and Shure SM-57s on stage, combined with a soundboard feed. The sound quality is outstanding. Enjoy!
Download the complete show: [MP3] | [FLAC]
Stream the complete show:

Moon Duo
2015-09-11
Hopscotch Music Festival
Contemporary Art Museum
Raleigh, NC, USA
Taped and mixed by Rumbleseat
Tracked by acidjack
Church Audio CA-11c (ceiling)>Naiant PFA + Stereo soundboard feed + Shure SM-57 (stage lip, 90 degrees/10in split)>Tascam DR-680>3x24bit/48kHz WAV>Magix Audio Cleaning Lab (effects, cleanup)>Audacity>24bit/48KHz WAV>Audacity 2.0.5 (track, amplify, balance, downsample, dither)>FLAC ( level 8 )
Tracks
01 Wilding
02 Circles
03 I Been Gone
04 Free the Skull
05 Free Action
06 In the Sun
07 Night Beat
08 Goners
If you enjoyed this recording, PLEASE SUPPORT Moon Duo, visit their website, and buy their records from Sacred Bones Records.