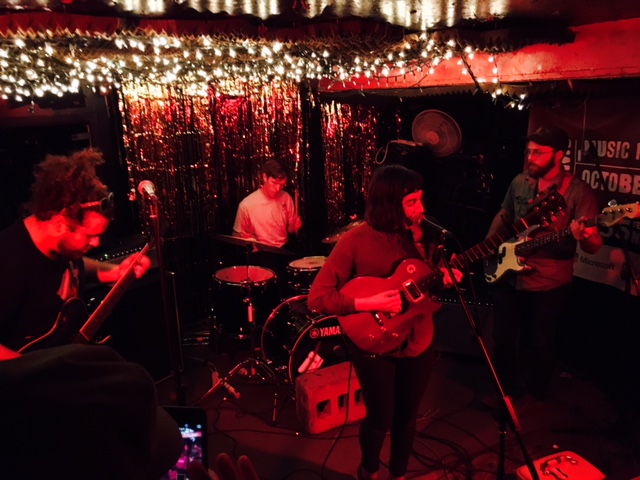 The "taping" community is not a large one, and among people who have similar tastes to us that do it, the number is even smaller. We've long-respected the Athens/Atlanta site Southern Shelter for both its excellent taste in music and its high-quality recordings, and we look to each other for inspiration for the next bands to check out. The Athens band Mothers is one that Southern Shelter has talked up for a while, making us extra-stoked to be able to include them in our unofficial CMJ day show. Other sites caught on in the meantime, with Stereogum naming them a "band to watch" just a day before our show.
The Cake Shop room was at capacity for this set, and it's no wonder why: Mothers, whose debut LP is anticipated in 2016, truly are an up-and-comer you can't miss. Frontwoman and songwriter Kristine Leschper's songs have a depth, breadth and ingenuity that sets them apart. In addition to her powerful voice, the songs feature complex arrangements that at times recall math and noise rock — a part of Leschper's evolution as a songwriter as the band's debut has come closer to fruition. This band, like many these days, began as Leschper's solo project, but its expansion makes it more than the sum of those parts. She's got an excellent team around her, and during the four-song span of our show, they gave us a taste of their range. "It Hurts Until It Doesn't" is emblematic of Mothers' evolution as a full band, whereas "No Crying In Baseball," one of few songs actually released and this set's closer, is considered an outlier to the rest of the band's style. We hear the influence of some classic Athens bands in their sound, including the New Wavers Pylon (who we've recorded twice) and Warehouse (who we caught this year). It's easy to see why they've caught on, making several "best of CMJ" lists this year, as this is one of those lucky few acts that lives up to the hype.
I recorded this set with Schoeps MK4V microphones in front of the stage together with a soundboard feed from the Cake Shop engineer Jeff. The sound quality is excellent. Enjoy!
Download the complete set: [MP3/FLAC]
Stream the complete set: 

Mothers
2015-10-15
NYCTaper Unofficial CMJ Show
Cake Shop
New York, NY USA
Exclusive download hosted at nyctaper.com
Recorded and produced by acidjack
Schoeps MK4V (onstage)>KC5>CMC6 + Soundboard (engineer: Jeff)>>Edirol R-44>2x24bit/48kHz WAV>Adobe Audition CS 5.5 (align, mix down, fades, compression)>Izotope Ozone 5 (effects, EQ, image)>Audacity 2.0.5 (track, amplify, balance, downsample, dither)>FLAC ( level 8 )
Tracks
01 Copper Mines
02 It Hurts Until It Doesn't
03 Hold Your Own
04 No Crying In Baseball
If you enjoyed this recording, please like Mothers on facebook and check out their songs on Soundcloud.