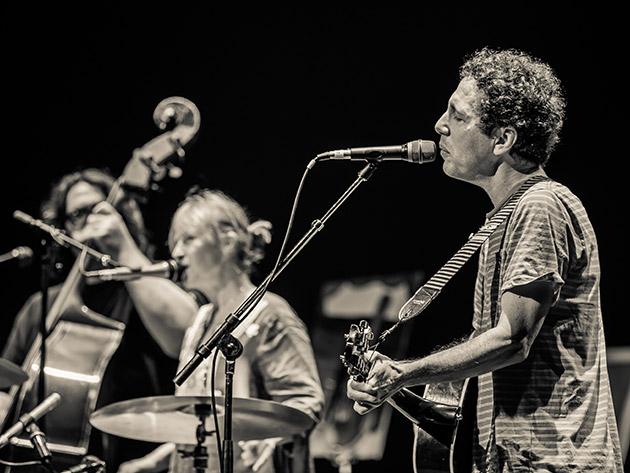 [Photos courtesy of P Squared Photography]
A Yo La Tengo show in New York always feels like a family affair, even if held in the sprawling, gorgeous new Kings Theatre in Flatbush, Brooklyn. (If you haven't seen this space, it's so spectacular that it might make the Beacon Theater blush). This tour's format — an all-acoustic performance that highlights the band's recent partial-covers album, Stuff Like That There — also lent it that air, as the band clustered together with ample space to spare, surrounded by artwork made by friends and family, plus the friends and family staring back at them from the audience. With this band, you can always count on the unexpected, so while of course they played their new "single," a cover of The Cure's "Friday, I'm In Love," along with other highlights of the record like their covers of Darlene McCrea's "My Heart's Not In It" and Lovin' Spoonful's "Butchie's Tune," and the brand-new songs "Rickety" and "Awhileaway," their set was more surprises than sure things.
I'd assume the band's longtime friends in Antietam were floating around in the audience somewhere, so Yo La Tengo rewarded us with a cover of that band's "Naples." Okay, fine, maybe one would have anticipated that — but who would have thought the band would follow the ultra-quiet new number "Awhileaway" with a cover of the Minutemen's "Corona"? And later, as if in a nod to us noiseniks who can't live without the band's extended improvisational songs, they gave us an acoustic version of "Pass the Hatchet, I Think I'm Goodkind." Of course, Stuff Like That There isn't the band's first covers-based album, so they of course had to take us back to the Fakebook days, including an excellent rendition of "Yellow Sarong" by The Scene Is Now. "Our Way To Fall" was as lovely as always, ending the main set on a subtle note. Of course the band came back, and of course it was with another excellent cover, this time Devo's "Bottled Up," with James taking his first vocal turn of the night. But the show's final two numbers that will probably go down as its key moments, as the night's opener, the famed English musician and songwriter Nick Lowe, joined the band for "Walk Away Renee" and his own song, "Rollers Show."
As Georgia Hubley handles the vocals on many of the band's quiet numbers, this format gave her a more prominent role. Added to the band's arsenal for this tour is longtime partner Dave Schramm on second guitar, while James McNew ably tackled the stand-up bass. The soft/loud dynamic has traditionally been as essential to this band's sound as their encyclopedic music knowledge, so the choice of an all-acoustic show — following a 2014 tour that had one full acoustic set before the "loud" second set — is a bit of a detour, but I can't say I'm surprised that it worked. We'll call this journey to the mellower side of YLT an unqualified success.
I recorded this set with the invaluable assistance of the band's engineer Mark Luecke and the Kings Theatre staff. The recording is Mark's mix combined with Schoeps MK41V microphones, and the sound quality is outstanding. Enjoy!
Download the complete set: [MP3/FLAC/Apple Lossless]
Stream the complete set:

Yo La Tengo
2015-10-10
Kings Theatre
Brooklyn, NY USA
Exclusive download hosted at nyctaper.com
Recorded and produced by acidjack
Soundboard (engineer: Mark Luecke) + Schoeps MK41V>KCY>Z-PFA>>Edirol R-44>2x24bit/48kHz WAV>Adobe Audition CS 5.5 (patch first song, align, mix down, amplify, balance)>Izotope Ozone 5 (EQ, effects, image)>Audacity 2.0.3 (track, amplify, balance, downsample, dither)>FLAC ( level 8 )
Special thanks to Mark Luecke for his assistance and the patched audience portion of the first song.
Tracks
01 Tried So Hard [Gene Clark]*
02 Automatic Doom [Special Pillow]
03 Rickety
04 My Heart's Not In It [Darlene McCrea]
05 Double Dare
06 Naples [Antietam]
07 Deeper Into Movies
08 Butchie's Tune [Lovin' Spoonful]
09 Awhileaway
10 Corona [Minutemen]
11 Today Is the Day
12 Pass The Hatchet, I Think I'm Goodkind
13 Can't Forget
14 [banter]
15 Here Comes My Baby [Cat Stevens]
16 Friday I'm In Love [The Cure]
17 Yellow Sarong [The Scene Is Now]
18 Ohm
19 Our Way To Fall
20 [encore break/artwork intro]
21 Bottled Up [Devo]
22 [Nick Lowe intro]
23 Walk Away Renee [The Left Banke]&
24 Rollers Show [Nick Lowe]&
* no soundboard for first 1:20; audience mics are patched from the band's source
& with Nick Lowe
If you enjoyed this recording, PLEASE SUPPORT Yo La Tengo, visit their website, and buy Stuff Like That There and their many other fine releases from Matador Records.