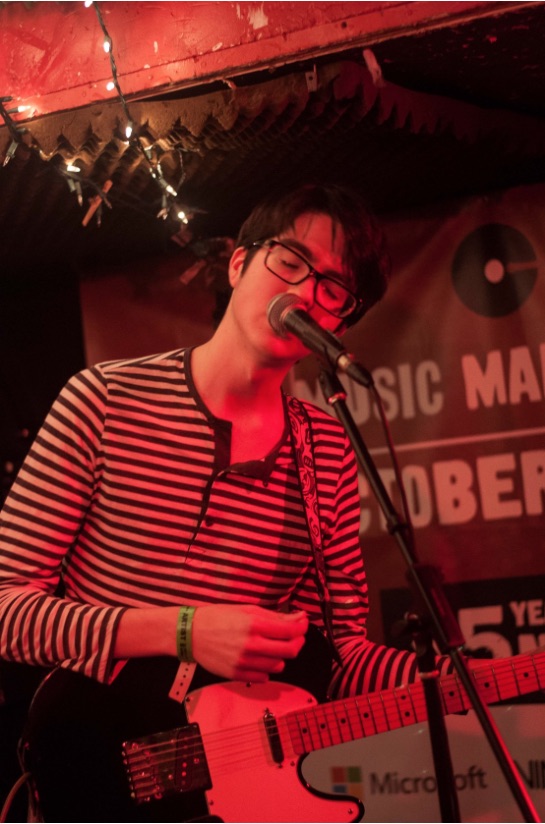 [Photo courtesy of Cereal + Sounds]
Twenty-two year old Will Toledo, who performs as Car Seat Headrest, is one of those songwriters whose skill actually matches his high level of output and obvious ambition. That's a clear reason how, at a young age, and after already writing, performing and producing eleven albums (!!!) on his own on bandcamp, he's found himself signed to Matador Records, where he's about to release Teens of Style. Lest you dump this music in the category of mumbly lo-fi bedroom recordings that we've all seen a hundred times before, I'd point you to the very first song of this set at our NYCTaper Unofficial CMJ Show, "The Ending of Dramamine," which was fourteen minutes of off-kilter pop-inflected rock reminiscent of bands like Clap Your Hands Say Yeah, the Cars and R.E.M. Or there's how Toledo, prior to his affiliation with a "big time" label, had already sold 25,000 copies of those bandcamp-only releases. Oh, and those earlier efforts weren't made in a bedroom — the story goes that the only place Toledo could find peace and quiet to record was the family car, hence the band name.
Toledo's songs are lyrically dense, at times funny, at times teenage-confessional, unflinchingly honest. We were excited that Matador offered us the chance to have this artist close our show, because Teens of Style has already appeared on many best-of lists since its October 30 release. All of these songs appeared in some form prior to Teens of Style, but expect to hear brand-new versions of the last three — "Times To Die," "Something Soon" and "Oh! Starving" — on that record. In the meantime, enjoy these right-on live performances, and expect much more to come, including a show on December 5 at Baby's All Right.
I recorded this set with Schoeps MK4V microphones in front of the stage and a soundboard feed from Cake Shop engineer Jeff. The sound quality is excellent. Enjoy!
Catch them at Baby's All Right on December 5. Get tickets here.
Download the complete show: [MP3/FLAC]
Stream the complete show:

Car Seat Headrest
2015-10-15
NYCTaper Unofficial CMJ Show
Cake Shop
New York, NY USA
Exclusive download hosted at nyctaper.com
Recorded and produced by acidjack
Schoeps MK4V (onstage)>KC5>CMC6 + Soundboard (engineer: Jeff)>>Edirol R-44>2x24bit/48kHz WAV>Adobe Audition CS 5.5 (align, mix down, fades, compression)>Izotope Ozone 5 (effects, EQ, image)>Audacity 2.0.5 (track, amplify, balance, downsample, dither)>FLAC ( level 8 )
Tracks [Total Time 30:19]
01 The Ending of Dramamine
02 Times To Die
03 Something Soon
04 Oh! Starving
If you enjoyed this recording, check out Car Seat Headrest's bandcamp page, and buy Teens of Style from Matador Records.