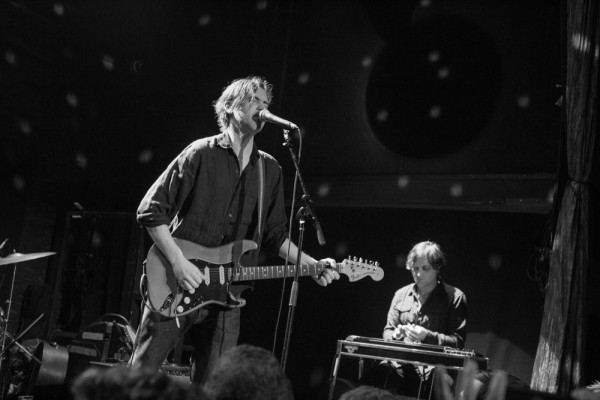 [photos by Will Oliver]
The timing was excellent. My first show of the new year took place at the legendary Bowery Ballroom and featured one of my favorite artists. And did Cass McCombs ever deliver. We've seen Cass perform intense shows, fun shows, and even split shows with the Meat Puppets. But what Cass and his band did on Thursday night was one for the ages — an over two-hour epic night that featured a nice cross-section of material from his healthy catalog. Ostensibly Cass is on tour in support of his new album A Folk Set Apart: Rarities, B-Sides & Space Junk, Etc., which as its title makes clear, is a compilation. But the band only played a couple of songs from the new album, instead treating us to some inspired versions of older Cass material. Of note were the last two songs played — a huge thirteen-minute version of "County Line" and the finale, a fourteen minute take on "Dreams Come True Girl", which also included a dual drum solo. The band this time out included the addition of two drummers (Jesse Lee and Ryan Sawyer) to replace Joe Russo (currently on tour with JRAD), and Cass regulars Dan Iead on guitar and Jon Shaw on bass. With several years together, the unit was both tight when necessary and also capable of letting loose for extended segments (see above) which ultimately provided us with a lengthy show that literally never lagged and was chock full of highlights.
I recorded this set from our usual location in this venue and the sound quality is excellent. Enjoy!
Download the Complete Show [MP3] / [FLAC]
Stream the Complete Show [minus banter tracks]:

Cass McCombs
2016-01-07
Bowery Ballroom
New York NY
Digital Master Recording
Soundboard + Audience Matrix
Soundboard + Schoeps CCM4u Cardioids > Sound Devices 744t > 2 x 24bit 48kHz wav files > Soundforge (post-production) > CDWave 1.95 (tracking) > TLH > flac (320 MP3 and tagging via Foobar)
Recorded and Produced by nyctaper
Setlist:
[Total Time 2:02:28]
01 [intro]
02 Night Of The World
03 Big Wheel
04 [new song – River of Blood]
05 Brighter
06 [band introductions]
07 Name Written In Water
08 My Sister My Spouse
09 [new song – I Want to Know]
10 Robin Egg Blue
11 Aeon of Aquarius Blues
12 I Cannot Lie
13 Morning Star
14 Prima Donna
15 [new song – Why Does it Rain]
16 Home on the Range
17 County Line
18 [band intro – encore break]
19 Dreams Come True Girl
If you download this recording from NYCTaper, PLEASE SUPPORT Cass McCombs, visit his website, and purchase A Folk Set Apart: Rarities, B-Sides & Space Junk, Etc. from the Domino Records website [HERE].