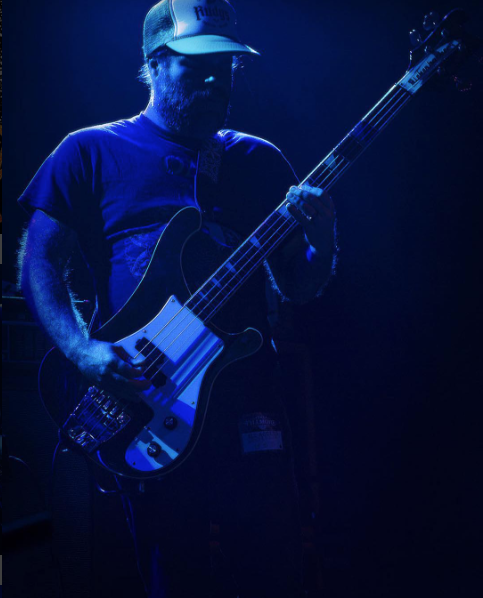 [photos of the Boston show by Elizabeth Gohr, from Earthless' Instagram page]
It seems more than apropos that the Twitter handle of the San Diego band Earthless is "@earthlessrips". 'Cause that is, indeed, what they're gonna do when you see them onstage during one of their relatively infrequent East Coast trips. During this run, they hit both Rough Trade NYC and the Mercury Lounge the following night. We caught the latter show, on a late Friday, and it was a doozy. For over an hour the band shredded through just three songs, two of which hailed from their 2013 LP From the Ages. While their records are cult favorites in their own right, the live show is the right place to experience these guys, as Mario Rubalcaba (drums), Isaiah Mitchell (guitar) and Mike Eginton (bass) tearing it up onstage is about as ideal of a fist-pumping, beer-swigging, rock n' roll moment as you can have with a band that you aren't embarrassed to like. This is rock music at is elemental, instrumental best, loud, pure and stacked with riffs. Somebody is bound to throw around the term "stoner rock" at some point or another, and who can blame 'em, but this is music that can go with almost any drug (or none at all, of course). After a short break, the band closed this show with a cover (with vocals, no less!) — a true-to-the-original rendition of Jimi Hendrix's "Foxy Lady." It wasn't the twenty-minute thrashers that came before it, for sure, but the cover was perfect — one last time to let Earthless remind us why they're a must-see when they're out this way.
I recorded this set with Schoeps MK41V microphones and a direct feed of Mercury engineer Alex Beaulieu's live mix. The sound quality is outstanding. Enjoy!
Download the complete set: [MP3/FLAC]
Stream and download the complete set on our bandcamp page:

Earthless
2016-03-18
Mercury Lounge
New York, NY USA
Exclusive download hosted at nyctaper.com
Recorded and produced by acidjack
Schoeps MK41V (ROC, PAS) + Soundboard (engineer: Alex Beaulieu)>>Zoom F8>2x24bit/48kHz WAV>Adobe Audition CS 5.5 (align, mix down, adjust balance
of SBD, adjust levels)>Izotope Ozone 5 (effects, EQ)>Audacity 2.0.5 (track, amplify, balance, downsample, dither)>FLAC ( level 8 )
Tracks
01 Uluru Rock
02 Violence of the Red Sea
03 Sonic Prayer
04 [encore break]
05 Foxy Lady [Jimi Hendrix]
Support Earthless: Facebook | Buy their records from Tee Pee Records