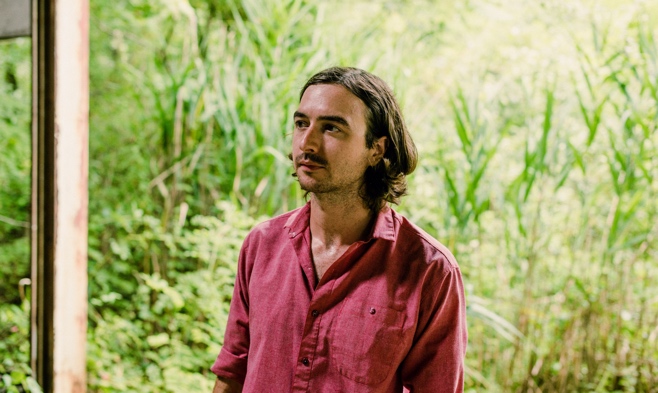 There's much love for the band Real Estate both at this site and in NYC in general, but that doesn't mean everyone's a fan. With the detractors, it seems that what bugs them the most is that Real Estate make things too easy — their music seems to positively roll forth from them in a smooth wave, with breezy melodies and approachable hooks, vocals wafting in a comfortable haze. That voice comes from one Martin Courtney, who rolled out a solo effort, Many Moons, last year. It's what you hope for in a solo album — a scaled-back version of a Real Estate album in some ways, a much more personal, intimate album in others. If you don't like Real Estate, well, I don't know what you to tell you, because Courtney doesn't abandon the band's formula so much as peel back a few layers. "You will not find me wasting my energy" begins one couplet on the album's opener "Awake," and you get the sense with this record that it's not a lack of effort by any means, but it is a great example of not trying too hard.
Courtney hit that sweet spot at this recent Baby's All Right show, a venue which at this point feels like a second home for a certain caste of Brooklyn music regulars. This performance, falling near the end of the tour, had the mellow, easy feel of a weekend show before a friendly crowd. We got to hear the entire album, highlighted by the single "Airport Bar," and the kickoff track "Northern Highway." Of course, it wouldn't have been a show by a Real Estate band member without some crucial covers, and Courtney nailed both the placid "Harvest Moon" and Echo and the Bunnymen's "The Killing Moon" before the grand finale, with opener EZTV joining the headliners for a Feelies cover, "On the Roof," from their second album The Good Earth. It was a night for the familiar, a night for the good, and one for a longtime friend to share with the people who were with him from the beginning.
The engineer Jason Kelly of Baby's All Right recorded and mixed this set. The sound quality is outstanding. Enjoy!
Download the complete show: [MP3/FLAC]
Stream the complete show (banter tracks removed):

Martin Courtney
2016-02-13
Baby's All Right
Brooklyn, NY USA
Exclusive download hosted at nyctaper.com
Recorded and live mixed by Jason Kelly
Produced by acidjack
Soundboard (main stereo mix) + Audio Technica 4051 (FOB, DFC, XY)>Pro Tools>4x24bit/48kHz WAV>Adobe Audition CS 5.5 (align, mix down, adjust levels)>Izotope Ozone 5 (effects)>Audacity 2.0.5 (track, amplify, balance, downsample, dither)>FLAC ( level 8 )
Tracks
01 Northern Highway (fades in)
02 Focus
03 [banter]
04 Foto
05 Asleep
06 Airport Bar
07 Awake
08 [banter2]
09 Little Blue
10 Before We Begin
11 Many Moons
12 Vestiges
13 [banter3]
14 Harvest Moon [Neil Young]
15 The Killing Moon [Echo & the Bunnymen]
16 [banter4]
17 On the Roof [The Feelies]*
* w/ EZTV
Support Martin Courtney at his website and by buying Many Moons from Domino.