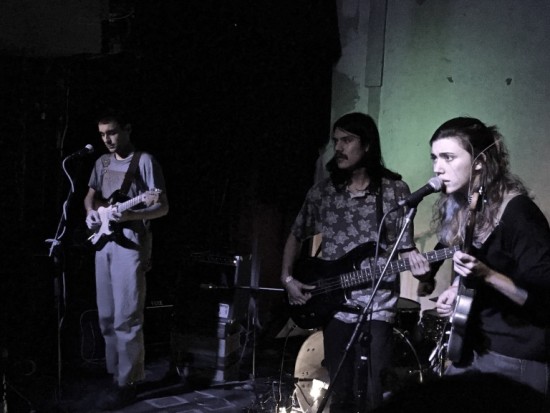 [photo by acidjack]
Back in January, acidjack and I experienced Palm live for the first time at Palisades and we came away with identical impressions. While the band is lazily described in some quarters as "math rock", in reality Palm is a quartet of superb musicians who all have an extraordinary sense of timing and advanced chops. The songwriting is intelligent and sublime and reminds me at times of Sunflower. As the band continues to grow and perfect their performance skills in a live setting, there is really no ceiling for Palm.
In March, the folks at AdHoc added a second Girlpool show at Market Hotel after the first night sold out quickly. As support for the second night, we were extremely pleased to see that Palm had been invited. As the band seems to have been perpetually on tour, the stars aligned and Palm came to Brooklyn and seized the opportunity to exhibit their charms to an audience of fans unfamiliar with their oeuvre. But the band very quickly won over the crowd and kept the sold-out venue involved in the set throughout — a set that included half entirely new songs that would be familiar only to people who had previously experienced the band live or who listened to our January recording.
Palm continues to tour up and down the East coast throughout April and May, dates HERE. Included is a local show on April 28 at Baby's All Right in Williamsburg.
I recorded this set with our upfront mounted microphones and mixed it with a superb board feed provided by the venue's FOH Dana. The sound quality is superb. Enjoy!
Download the Complete Show [MP3] / [FLAC]
Stream the Complete Show:

Palm
2016-03-26
Market Hotel
Brooklyn NY
Digital Master Recording
Soundboard + Upfront Audience
Soundboard [Engineer: Dana Wachs] + Audio Technica 4051 > Sound Devices 744t > 2 x 24bit 48kHz wav files > Soundforge (level adjustments, mixdown, set fades) > CDWave 1.95 (tracking) > TLH > flac (320 MP3 and tagging via Foobar)
Recorded and Produced
by nyctaper
Setlist:
[Total Time 33:25]
01 [new song – Take A Chance]
02 I Don't Want to know
03 Ankles
04 [new song – The Wrong Side]
05 Crank
06 [new song – Breaking Chains]
07 [thanks]
08 Two Toes
09 [new song – Reminds Me]
SUPPORT Palm: Facebook | Bandcamp | Exploding in Sound Records Page