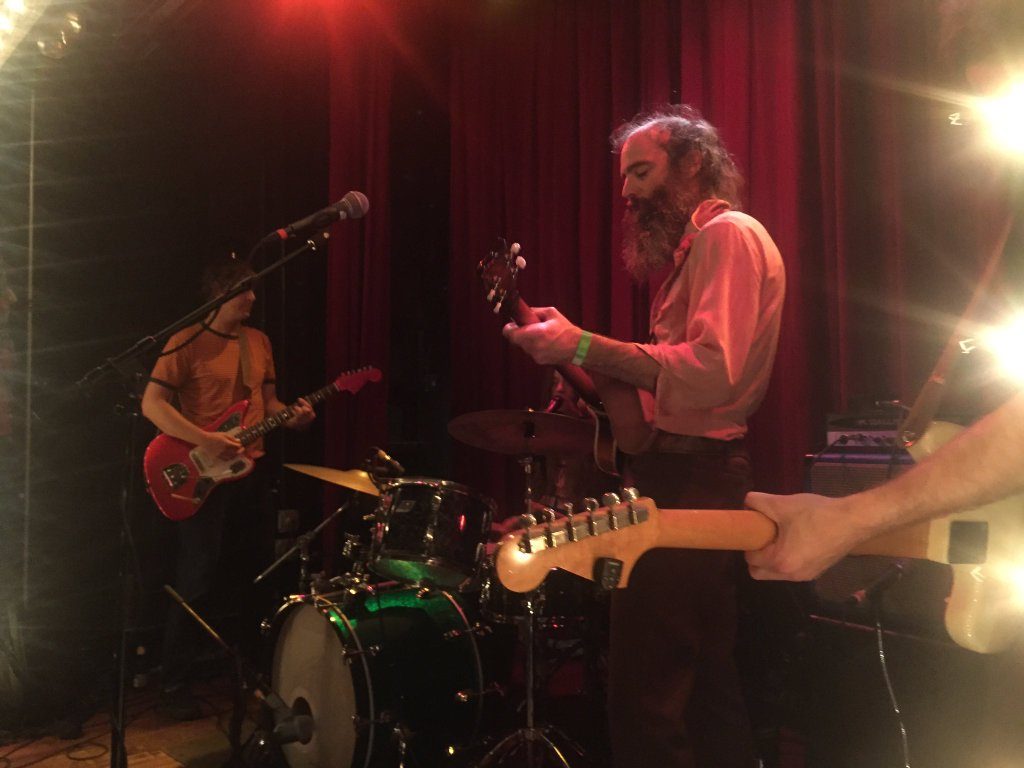 [photo via Douglas Fraser]
Remember that time your favorite psych-sters got together, swapped instruments, and then gigged for a couple years before releasing 2016's best record on Sup Pop? Yeah, me too: Finally making it to New York after a series of Bay Area performances and a West Coast tour, Heron Oblivion landed in Brooklyn Saturday, forcing bearded record nerds of the Tri-State Area to abandon their Discogs wantlist for a few hours and venture out to Union Pool. In case you haven't been following, Heron Oblivion's not-to-be-fucked-with supergroup credentials are as follows: Meg Baird (Espers, The Baird Sisters) on drums and vocals, Ethan Miller (Comets on Fire, Howlin Rain, Feral Ohms) on bass and backing vocals, Noel Von Harmonson (Comets on Fire) on guitar, and Charlie Saufley (Assemble Head in Sunburst Sound) also on guitar. If Heron Oblivion didn't exist already you might not be able to dream up what would happen when you combine Baird's pastoral psych with Miller's fiery guitar freakouts, but the result is something that achieves a rare cosmic balance. Their Union Pool set covers six of the seven songs off their self-titled debut record, adding one newer untitled song that I hope signals some permanence to the group.
I recorded this set from our usual location in the venue, with a board feed from Union Pool FOH, Leah. As usual for this room, the sound is excellent. Enjoy!
Heron Oblivion is still on tour, and you can view all their dates here.
Download MP3 and FLAC via the Live Music Archive.

Heron Oblivion
2016-05-28
Union Pool
Brooklyn, NY
Exclusive download hosted at nyctaper.com
Recorded and produced by Eric PH
Soundboard (engineer: Leah) + AKG C480B/CK63 (PAS) > Roland R-26 > 2xWAV (24/48) > Adobe Audition CC (align, compression, mixdown, normalize, fades) + Izotope Ozone 5 (EQ, compression) > Audacity 2.0.5 (downsample, dither, tracking, tagging) > FLAC (16/44.1, level 8)
Tracks [50:04]
01. Beneath Fields
02. Oriar
03. Sudden Lament
04. untitled
05. Your Hollows
06. Faro
07. Rama
• Buy Heron Oblivion via Sub Pop
• • Connect with the band on Facebook
• • • Buy assorted Howlin Rain, Comets on Fire, and Feral Ohms music via Silver Current
• • • • Buy Meg Baird's solo LP Don't Weigh Down the Light via Drag City
• • • • • Buy Assemble Head in Sunburst Sound records via Tee Pee