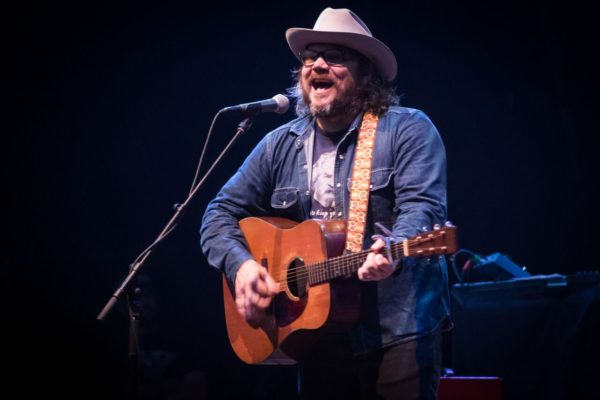 [photos by Jill from For The Love of Brooklyn]
This weekend I came across a photo of Jeff Tweedy with Bob Dylan at Bonnaroo in 2004. In the photo, Dylan is wearing a cowboy hat and looking very much like the bemused elder statesman and Tweedy is wearing a baseball cap, an exposed laminate pass and a look of a satisfied fan. To be fair, at that point in his career Jeff Tweedy had already founded one of the most influential alt-country bands (Uncle Tupelo) and carried Wilco through a series of superbly received albums and tours for nearly ten years.
Fast forward to this weekend at Mountain Jam and twelve years later its now Tweedy wearing the cowboy hat and taking the role of elder statesman. The large video screens give the crowd an ability to see closeups even if we're fifty feet from the stage, and throughout the set it was a hoot to see the bemused look on Tweedy's face as the Jam crowd roared for every familiar song. But like Dylan before them, Wilco's set wasn't just a band churning out the hits — this is an active group with new material and although Star Wars wasn't played straight through as with the Portchester shows a few months back, the newer songs were well represented in the show, and fit well sprinkled among the familiar songs. The highlight of the set was another veteran/protege appearance, as current alt-country star Jason Isbell joined Wilco for a tremendously well played "California Stars" with dueling guitar solos between Nels Cline and Isbell. And at that high point of the set, Tweedy didn't look bemused but truly pleased with the superb collaboration.
I recorded this set with the large diaphragm Neumann cards set up in the taper's "section" on the hill. The sound quality absords some of the crowd chatter and some of the outdoor elements, but overall its an excellent capture. Enjoy!
Download the Complete Show [MP3] / [FLAC]
Stream the Complete Show:

Wilco
2016-06-03
Mountain Jam
Hunter NY
Digital Master Recording
FOB Audience
Neumann TLM 102s > Sound Devices 744t > 24bit 48kHz wav > Soundforge (post-production) > CDWave 1.95 (tracking) > TLH > flac (320 MP3 and tagging via Foobar)
Recorded and Produced by nyctaper
Setlist:
[Total Time 1:37:13]
01 [EKG intro]
02 More
03 Random Name Generator
04 The Joke Explained
05 I Am Trying to Break Your Heart
06 Art of Almost
07 Pickled Ginger
08 Hummingbird
09 Handshake Drugs
10 Where Do I Begin
11 Cold Slope
12 King of You
13 Via Chicago
14 Spiders
15 Jesus Etc
16 Box Full of Letters
17 Heavy Metal Drummer
18 I'm the Man Who Loves You
19 Dawned on Me
20 Impossible Germany
21 The Late Greats
22 California Stars
23 Red Eyed and Blue
24 I Got You
25 Outta Site Outta Mind
If you download this recording from NYCTaper we expect that you will PLEASE SUPPORT Wilco, visit their website, and purchase their Star Wars and their other releases from their website [HERE].