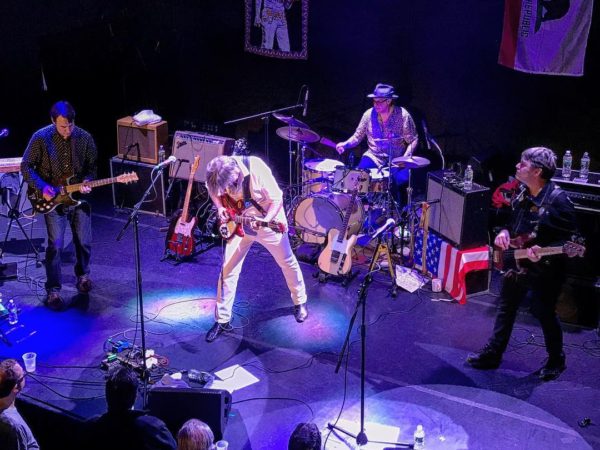 [photo by PSquared Photography]
Any discussion about the beginnings of the "alt-country" or "no depression" movement needs to include the story of the Long Ryders. The band is linked with LA's early 80s "Paisley Underground", except that the Long Ryders added Americana to their sixties-influenced pop. The Long Ryders released an EP and three terrific albums before they broke up in 1987, just a few years before the emergence of bands like Uncle Tupelo, Jayhawks and Old 97s would be grouped in a "new" genre that owed much to the path laid out by the Ryders. I owned all of the Ryders releases on vinyl and they often made appearances on my many mixed tapes over the years, cementing the band's influence in my own music journey.
Each of the four members of the Long Ryders found significant success in the 1990s. Sid Griffin moved to London, founded the great Coal Porters and became a music writer. Stephen McCarthy moved to Virgina and worked with Steve Wynn in Gutterball and in recent years spent time in the Jayhawks. Tom Stevens returned to Indiana and launched a successful solo career, played with Wynn in Danny & Dusty and earned a degree in Computer Science. Greg Sowders stayed in LA and became a music publishing executive as a senior VP of A&R at Warner Chappell. The band did have a couple of brief reunions last decade but for the most part have moved on from the Long Ryders.
This year finally saw the release of the ultimate Long Ryders box set Final Wild Songs (Cherry Red Records), which includes all 3 albums, the EP, a bunch of bonus tracks, and a full live set from 1985. This extraordinary collection of material made the current music press sit up and take notice. The Box Set received five stars from AllMusic, 8/10 from Popmatters, and four stars from UnCut. The band played some reunion dates in Europe in the Spring, and this Fall saw the Long Ryders visit NYC for the first time in 29 years.
We've acknowledged that these reunion shows can be a mixed bag. Generally speaking, the relative life situation of the members often dictates the quality of the return to the music. That is to say that if we're dealing with folks who don't need to revisit past glories, the performances tend to be more tight and focused. Given that all four Long Ryders have had significant success in their lives after the band's demise, this group was among the category of folks who reunited for all of the right reasons — love of music, dedication to fans, and an opportunity to reach younger fans to cement their rightful place in music history.
Last week at Bowery Ballroom, the Long Ryders were clearly focused and fully in sync. The set began in earnest with the roots rock of Sid Griffin complimented by McCarthy's sweet tenor country rock. Sowders and Stevens provided a precise rhythm section with Stevens stepping forward as the protagonist in two expert numbers. The setlist comprised exactly the songs you'd want the Ryders to play ("Lights of Downtown", "State Of My Union", "Looking for Lewis and Clark"), included some great covers that were part of their recorded output ("I Want You Bad", "Masters of War") and indeed one cover that I believe the band never laid down in a studio — Buffalo Springfield's "On The Way Home", which proved a perfect outlet for McCarthy. Sure the crowd was older — to the point where at least a dozen of them pulled out chairs onto the Bowery floor — but this music sounded as fresh and new as it did in the mid-1980s, in large part because the Long Ryders were a direct influence on bands still making music today.
The Long Ryders have completed their tour but just recently announced that they will appear at the Stagecoach Festival in California in April, along with dates in Santa Ana and Hollywood, info here.
I recorded this set in our standard location at Bowery with the Schoeps cards mixed with an excellent balanced feed from the band's talented FOH Adrian. The sound quality is superb. Enjoy!
Download the Complete Show [MP3] / [FLAC]
Stream the Complete Show:

Long Ryders
2016-11-10
Bowery Ballroom
New York NY
Digital Master Recording
Soundboard + Audience Matrix
Soundboard [Engineer Adrian] + Schoeps CCM4u Cardioids > Sound Devices 744t > 2 x 24bit 48kHz wav files > Soundforge (post-production) > CDWave 1.95 (tracking) > TLH > flac (320 MP3 and tagging via Foobar)
Recorded and Produced by nyctaper
Setlist:
[Total Time 1:29:31]
01 Tell It to the Judge on Sunday
02 Lights of Downtown
03 A Stitch in Time
04 Gunslinger Man
05 You Don't Know What's Right, You Don't Know What's Wrong
06 Years Long Ago
07 Run Dusty Run
08 Ivory Tower
09 [banter – Joshua Camp intro]
10 The Light Gets In The Way
11 Masters of War [Dylan]
12 Two Kinds of Love
13 [banter – dedication]
14 I Want You Bad [NRBQ]
15 I Had a Dream
16 [banter – chick on a horse]
17 And She Rides
18 Final Wild Son
19 Man of Misery
20 You Just Can't Ride the Boxcars Anymore
21 (Sweet) Mental Revenge [Mel Tillis]
22 State of My Union
23 [encore break]
24 On the Way Home [Buffalo Springfield]
25 Looking for Lewis and Clark
SUPPORT Long Ryders: Website | Twitter | Merch! | Purchase Final Wild Songs from Cherry Red Records [HERE].