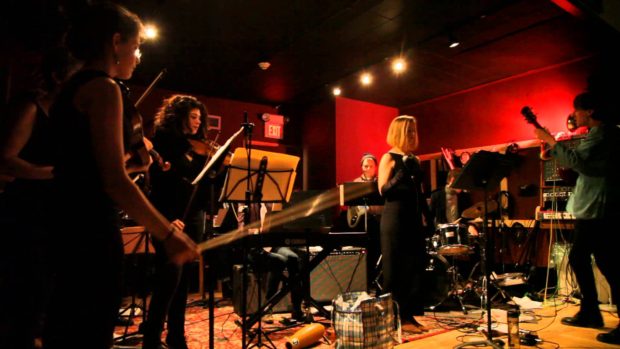 [still from this video]
I walked into the main building of The New England Conservatory of Music as a youngster in the Fall of 1975 when my older sister enrolled at the school. My childhood recollection is of a large staircase in a classic large atrium like something out of a 19th Century mansion. I left with the feeling that this was an important and serious place in the world. All these years later, I find that NEC is the oldest music school in the country — dating back to 1867. But the more impressive aspect of NEC is that its still a vibrant institution producing some of the best new musicians in a vast array of fields. Last year we welcomed to these pages the amazing Guerilla Toss, a band consisting primarily of graduates of NEC. This year its Simon Hanes, a former sometime member of GT whose band Tredici Bacci reflects his own eclectic and unique approach to composition undoubtedly honed inside of the classic halls of the New England Conservatory.
The music of Tredici Bacci is in some ways nothing like we've ever featured here before. Hanes' fixation on Italian movie soundtracks from the 1970s is surely odd, but when the music is so meticulously constructed and utterly true to the form it has the effect of affording the listener the opportunity to conjure a movie plot in their imagination while Hanes soundtracks the image. At Sunnyvale in January, Tredici Bacci was a ten-piece band of prime musicians who projected Hanes' compositions onto our imagined technicolor movie screen. The set was a relatively short thirty minutes, but accomplished what it set out to do — with precision, style and some humor. Tredici Bacci released their new album Amore Per Tutti (NNA Tapes) in November and this set featured two tracks from that album, a couple of older cuts and what appears to be some newbies. What is obvious from seeing Tredici Bacci live is that Simon Hanes has a fertile musical mind and we can expect to see more of Hanes and his many musical projects on these pages moving forward.
I recorded this set with the Schoeps cards mounted at the front and center of the stage and mixed with a nice board feed. We were initially skeptical that the recording could balance the full band, but after a fairly standard mixdown of the sources, this recording really does a superb job of capturing the band in all its glory. Enjoy!
Download this Recording in FLAC or MP3 from our Bandcamp page [HERE].
Stream the Complete Show:

Tredici Bacci
2017-01-25
Sunnyvale
Brooklyn NY
Digital Master Recording
Soundboard + On-Stage Audience Matrix
Soundboard + Schoeps CCM4u's > Sound Devices 744t > 2 x 24bit 48kHz wav files > Soundforge (post production) > CDWave 1.95 (tracking) > TLH > flac (320 MP3 and tagging via Foobar)
Recorded and Produced
by nyctaper
Setlist:
[Total Time 28:40]
01 Introduction – Winter Fireworks
02 Columbo
03 Swedish Tease
04 Motto
05 Sesso In Futuro
06 Hey, Come On Motherfucker
The band on this night:
Sami Stevens: voice
Abby Swidler and Siv Brun Lie: violins
Joanna Mattrey: viola
Dan Pencer and Will Greene: saxophones
Ezra Weller: trumpet
Jesse Heasly: bass
Peter Moffett: drums
Simon Hanes: guitar
Please SUPPORT Tredici Bacci: Facebook | Bandcamp | Purchase Amore Per Tutti via NNA Tapes [HERE]