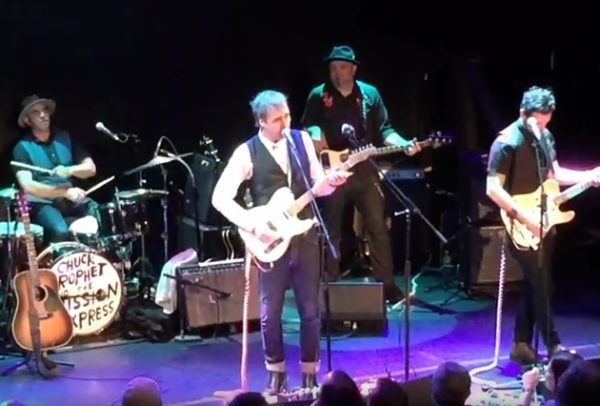 [screen shot from this video]
neild reports:
Chuck Prophet is one of those musicians who went from barely-known to me to a perennial favorite in the course of a single song — or really a single riff, as all it took was hearing the opening guitar line from "Sonny Liston's Blues," off his terrific 2009 album Let Freedom Ring. Prophet gets described frequently as the "indie rock Tom Petty," and it certainly fits his vocal style and commitment to old-school rock 'n' roll, but if anything it sells him short: He combines a heart worn boldly on his sleeve with character observations that are by turns astute and hilarious, sometimes in the course of the same phrase.
This show at the Bowery Ballroom came toward the end of the tour for Prophet's excellent new album Bobby Fuller Died for Your Sins. Live, not only is Prophet's dry wit given free rein, but the Mission Express, consisting of guitar wizard James DePrato (here playing even more slide than usual), the superb rhythm section of bassist Kevin White and drummer Vicente Rodriguez, and the unbeatable keyboardist/vocalist (and Prophet's wife) Stephanie Finch, can spread out songs like "Summertime Thing" and "You Did (Bomp Shooby Dooby Bomp)" into loping jams that would be rock radio staples in an alternate universe. I've never seen a bad Chuck Prophet and the Mission Express show, and this was among their best, charging along without letup for nearly two hours.
This recording was made with Church Audio CA-14 cardioid mics from lip of the Bowery Ballroom balcony, mixed with a soundboard feed provided by the Bowery's supremely talented and helpful new soundperson Danielle.
Please pay what you wish for the download (all proceeds other than Paypal and Bandcamp fees go to the artist), and visit chuckprophet.com for all your merch and info needs — I highly recommend subscribing to his email newsletter, which is always a terrific read even if you're not interested in finding out when he's coming to your town (though if you're not, I don't know what's wrong with you).
Download and Stream the Complete Show from our Bandcamp Page [HERE]
Chuck Prophet
2017-03-29
Bowery Ballroom
New York NY
Digital Master Recording
Soundboard + Audience Matrix
CA=14 Cards + Soundboard [engineer Danielle] > Sony PCM-M10 > WAV (24/48) > Sound Studio (light dynamic compression and mixing) > FLAC (16/44.1) > Tag > FLAC
Recorded and Produced by
neild
Setlist:
01 Bobby Fuller Died For Your Sins
02 Ramona Say Yes [Chuck Berry]
03 Lonely Desolation
04 Bad Year for Rock and Roll
05 Temple Beautiful
06 Who Shot John
07 Barely Exist
08 Jesus Was a Social Drinker
09 You Did (Bomp Shooby Dooby Bomp)
10 In The Mausoleum
11 Ford Econoline
12 We Got Up and Played
13 Iodine [Leonard Cohen]
14 Summertime Thing
15 Countrified Inner City Technological Man
16 Wish Me Luck
17 Willie Mays Is Up At Bat
18 Let Her Dance [Bobby Fuller Four]
19 You And Me Baby (Holding On)
PLEASE SUPPORT Chuck Prophet: Website | Purchase Bobby Fuller Died for Your Sins from Yep Roc Records