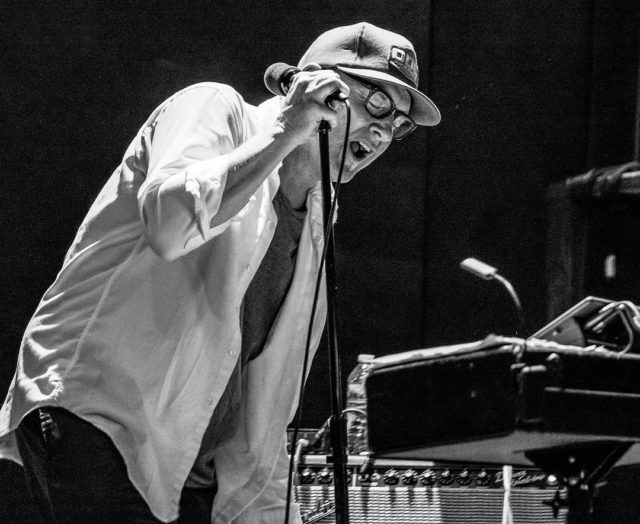 [photo by PSquared Photography]
In my not so humble opinion, Lambchop's FLOTUS was the best album of 2016. In a similar regard, "In Care of 8675309" is the best song released this decade. What makes it more remarkable is that the album represents for Kurt Wagner a stylistic pivot from a twenty-five year career of eclectic americana. For FLOTUS, Wagner used modern technology juxtaposed with his intimate lyrics to create a masterpiece about the maintenance of an interpersonal connection in a world increasingly enslaved to machines.
We were fortunate to capture the live debut of the FLOTUS material at Hopscotch in September. Since that time Lambchop has toured the world and performed this material more than fifty times in a live setting, so that by the time they arrived at Bowery Ballroom last Friday, we were excited for the development of the songs. Our expectations were met early in the proceedings when Wagner sweetly crooned a subdued version of "NIV" that blended seamlessly into a guitar-driven truncated version of "The Hustle" that was transformed from the hypnotic electronic bifurcated melody on the album to a more unified alt-folk ballad live. "8675309" was placed in the middle of the set but Wagner's intense vocal performance of the epic number was perhaps the highlight of the evening. The band's setlist included a handful of older numbers and one cover, but this night was dedicated to FLOTUS and sans the title track, the album was nearly completely performed. The keyboardist Tony Crow provided several ace solos (and some hilarious banter) and the band also includes veteran bassist Matt Swanson and Wye Oak's percussionist/electronic wiz Andy Stack, whose expert multitasking we've noted previously in this pages. But it was Wagner centerstage, and while his abundant use of vocals effects may have startled some of the old guard, the packed house was clearly on board for the FLOTUS sound and hovered on every note. Lambchop's current tour comes to a close in the next few weeks, and they're going back to Europe in the Summer festival season, but we expect that they will return to NYC in the Fall.
I recorded this set with the Schoeps mounted in our usual balcony spot and mixed with a flawless soundboard feed. The crowd's great respect for this performer and this material permitted us to capture the often quiet moments of this set without distraction and as a result the sound quality of this recording is superb. Enjoy!
Download the Complete Show [MP3] / [FLAC]
Stream the Complete Show:

Lambchop
2017-03-30
Bowery Ballroom
New York NY
Digital Master Recording
Soundboard + Audience Matrix
Soundboard + Schoeps CCM4u Cardioids > Edirol R-44 (Oade Mod) > 2 x 24bit 48kHz wav files > Soundforge (post-production) > CDWave 1.95 (tracking) > TLH > flac (320 MP3 and tagging via Foobar)
Recorded and Produced by nyctaper
Setlist:
[Total Time 1:39:16]
01 NIV
02 The Hustle
03 Directions to the Can
04 Poor Bastard
05 Old Masters
06 Writer
07 [banter – physical comedy]
08 In Care Of 8675309
09 [band introductions]
10 The New Cobweb Summer
11 [banter – build character]
12 Howe
13 JFK
14 Relatives #2
15 Harbor Country
16 [encore break]
17 My Blue Wave
18 When You Were Mine [Prince]
PLEASE SUPPORT Lambchop: Website | Buy FLOTUS at Merge Records