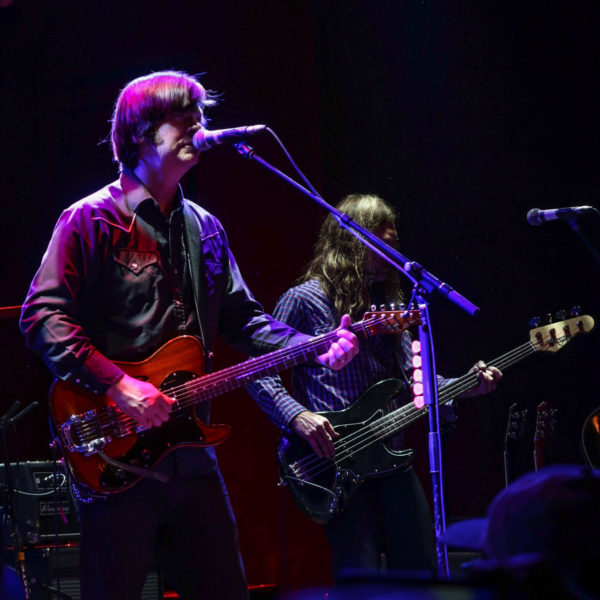 [photo by Joe Kelly]
Son Volt is currently on tour in support of their new album Notes of Blue, the band's ninth record in more than twenty years of work. Despite the early years as torch-carriers for the alt-country/No Depression movement, Son Volt has built a career on solid roots/Americana rock. Like band leader Jay Farrar, there's nothing particularly flashy about the group, they're just built on a consistent foundation of high quality music. The new album continues in that vein, if not a tad bit more focused on the "roots" sound more representative of the Son Volt's recent output.
The Son Volt tour came through NYC last week for a few local dates, and we were fortunate to attend the Bowery Ballroom show which sold out months ago. Like the band, the fans of this band are consistent and faithful — members of our group for the Bowery night came from Ireland, Boston and Missouri to see this show. And the band did not disappoint. After the early set concentrated heavily on Blue material, Son Volt delivered a twenty-six song show with a setlist pulled democratically from all eras of the band. Indeed there were three Uncle Tupelo songs in the encore set, and the night ended with Keith Richards penned Stones cover. Son Volt will be on tour throughout the next two months mostly in the West and Midwest, dates here.
I recorded this set with room mics only, running the Schoeps from our traditional spot in the front center of the balcony. The sound quality reflects the show experience — excellent quality sound supplemented by some feisty fans. Enjoy!
Download the Complete Show [MP3] / [FLAC]
Stream the Complete Show:

Son Volt
2017-04-07
Bowery Ballroom
New York NY
Digital Master Audience Recording
Recorded at Soundboard Booth
Schoeps CCM4u Cardioids > Sound Devices 744t > 2 x 24bit 48kHz wav files > Soundforge (post-production) > CDWave 1.95 (tracking) > TLH > flac (320 MP3 and tagging via Foobar)
Recorded and Produced by nyctaper
Setlist:
[Total Time 1:39:26]
01 Cherokee St
02 Lost Souls
03 Buzz and Grind
04 Static
05 Damn Shame
06 The Picture
07 Dynamite
08 Tear-Stained Eye
09 Midnight
10 Sinking Down
11 Back Into Your World
12 Catching On
13 Cairo and Southern
14 Ten Second News
15 Promise the World
16 [band introductions]
17 Back Against the Wall
18 Bandages and Scars
19 Driving the View
20 Route
21 Drown
22 Afterglow 61
23 [encore break]
24 Still Be Around
25 Windfall
26 Graveyard Shift
27 Chickamauga
28 [second encore break]
29 Happy [Rolling Stones]
PLEASE SUPPORT Son Volt, visit their website, and purchase Notes of Blue and other official releases directly from the Official Son Volt store [HERE].