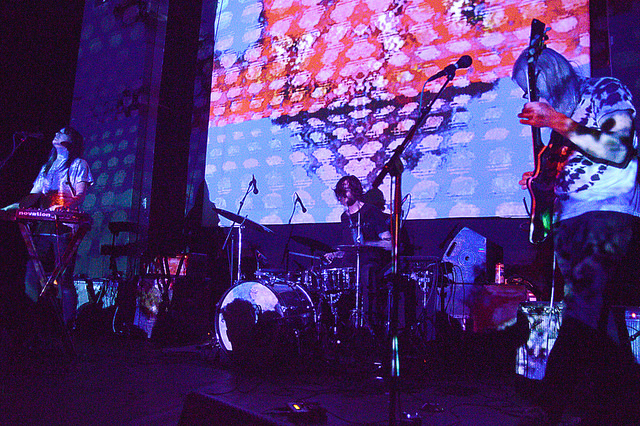 [Photo by Dean Keim]
If psychedelic music aims to be transportive, then Moon Duo's destination looks something like a Village nightclub featuring the Exploding Plastic Inevitable. Sanae Yamada's synths swirl together with Riply Johnson's guitar while drummer John Jeffrey plays with motorik precision. Hypnotic visuals play a game of hiding and showing the musicians. Moon Duo play songs for the dark and urban, and naming their recent two-volume album Occult Architecture underscores the time and place of their music. Song titles like "The Death Set," "Creepin'," and "Cult of Moloch" tell you this setting shouldn't be comforting. Capping off the set is a cover of those most-sinister Stooges: "No Fun" gets washed in synth flourishes while Johnson does his best Iggy. The psychedelic sixties are here.
I recorded this from the soundboard cage with the AKG's set up in DIN stereo configuration, combined with a board feed courtesy of FOH Terry Mattson and Moon Duo's touring engineer. The sound is spectacular. Enjoy!
Moon Duo will be back on May 20th to celebrate Sacred Bones' 10 Anniversary at Greenpoint Terminal Warehouse.
Download the complete show: [FLAC/MP3]
Stream the complete show: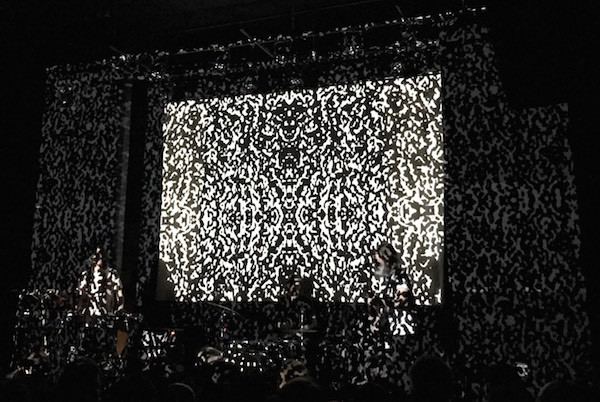 Moon Duo
2017-04-27
Rough Trade NYC
Brooklyn, NY
Recorded and produced by Eric PH for nyctaper.com
Soundboard + AKG C480B/CK61 (DIN, DFC) > Zoom F8 > 2 x WAV (24/48) > Adobe Audition CC (align, mixdown, balance, compression, normalize, fades) + Izotope Ozone 5 (EQ, exciter) > Audacity 2.0.5 (tracking, tagging, dither, downsample) > FLAC (16/44.1, level 8)
Tracks [1:11:40]
01. The Death Set
02. Cold Fear
03. Creepin'
04. White Rose
05. Free the Skull
06. I Been Gone
07. Free Action
08. Sevens
09. Cult of Moloch
10. [encore break]
11. Goners
12. No Fun [The Stooges]