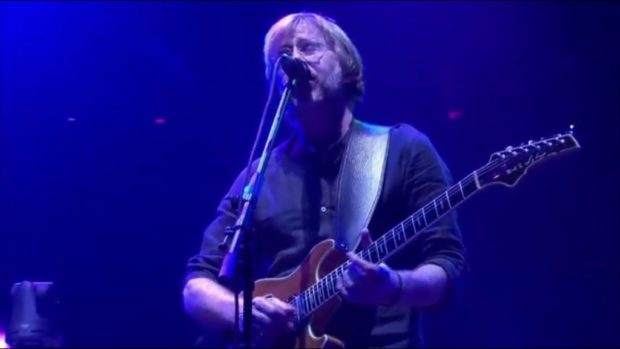 Phish's "Baker's Dozen" at Madison Square Garden is an ambitious concert series that promises an unmatched level of musicianship and inventiveness never before seen in the history of the City's "Most Famous Arena". We've attended many shows at this formidable arena over the years, but never a series that offered such unique treats. The "Bakers" part of the equation has been taken quite seriously — we were met at the gates of the venue by the gift of a strawberry donut for Saturday night's show. And this was no coincidence. The theme for this night's show appeared immediately as Phish's never-before cover of the Beatles "Strawberry Fields Forever" opened the night.
The first set for Saturday followed another development evident throughout the band's Summer tour — first sets have become serious jam vehicles no longer relegated to straight song play-throughs. And on this night we were treated to an extended "Moma Dance" and a Page McConnell solo piece to complete the "Squirming Coil" set closer that portended unique events to come. The second set began with a lengthy "Down With Disease" which led into the night's second major surprise — a cover of the thematically appropriate Brothers Johnson's "Strawberry Letter 23". This late-70s psychedelic funk piece offered a perfect vehicle for Phish to exercise its chops. The remainder of the second set followed the pattern for the evening as the band played extended versions of crowd favorites. The encore segment struck home in particular as Phish played a local favorite — The Talking Heads classic "Cities", among a series of inventive covers. We were met upon the exit of the venue with a downpour of rain that perhaps dampened the night temporarily but given our advantageous taper's section spot, wasn't a killjoy for very long. This is uploaded as fast as I can these days, and I hope you enjoy a primo recording of a first-rate Phish show, with many more to come.
We will be attending at least four more Phish shows during this run. Stay tuned.
I recorded this set with the Schoeps cards mounted at twelve feet in the first row of the Taper's Section. The band's sound crew did a terrific job in this arena and sound quality is superb. Enjoy!
Download the Complete Show [MP3] / [FLAC]
Stream the Complete Show:

Phish
2017-07-22
Madison Square Garden
New York NY
Digital Master Recording
First Row Tapers Section
Schoeps CCM4u Cardioids > Sound Devices 744t > 24bit 48kHz wav > Soundforge (post production) > CDWave 1.95 (tracking) > TLH > flac (320 MP3 and tagging via Foobar)
Recorded and Produced by nyctaper
Setlist:
Set 1
[Total Time 1:22:03]
01 Strawberry Fields Forever [Beatles]
02 Halley's Comet
03 The Moma Dance
04 Breath and Burning
05 Funky Bitch [Son Seals]
06 Mound
07 Foam
08 Roggae
09 The Squirming Coil
Set 2
[Total Time 1:22:42]
10 Down With Disease
11 Strawberry Letter 23 [Brothers Johnson]
12 Birds of a Feather
13 I Always Wanted It This Way
14 All of These Dreams
15 Split Open and Melt
16 Down With Disease Reprise
17 Shine a Light [Rolling Stones]
18 [encore break]
19 Peaches en Regalia [Zappa]
20 Cities [Talking Heads]
21 My Sweet One
SUPPORT Phish: Website | Store