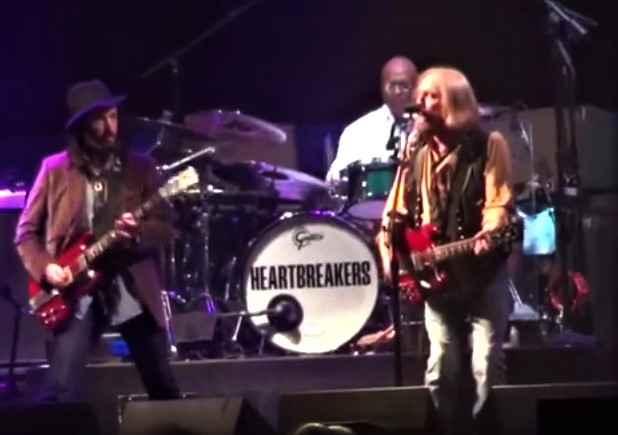 [screen shot from this video]
Since the sad and untimely death of the great Tom Petty, the tributes and remembrances have come in from all corners. Of those I was fortunate to read, the first-person tribute from Lucinda Williams seemed particularly heartfelt and authentic. Of the "fan" tributes, the writing of Patterson Hood from the Drive By Truckers seemed to mostly mirror my own personal experiences. Petty's music provided a soundtrack of sorts for multiple periods of my life — from his early power-pop hits to his mid career LA-based American folk. He produced songs that instantaneously transport the listener back to that time in their life that the song represents. For me, the Full Moon Fever album represented my return to NYC to live full time and those songs bring me back to my first apartment in Sheridan Square. Oh, the days.
This performance at the second annual Lockn Festival is vintage Petty. The nearly two-hour Fest set draws from all periods in his career and while the tour was ostensibly to promote his then-new album Hypnotic Eye, which would sadly be his last album with The Heartbreakers, he didn't rely heavily on new material performing just four songs from the record. The rest were the hits and some moderately deep cuts that had the crowd singing, swaying and cheering. This recording is our way to remember this truly great artist who left us all too soon.
The "legality" of NYCTaper hosting this recording is quite simple. The Lockn Festival is an open taping Festival, and indeed in 2014 the Fest's website contained language that taping was "encouraged" and recordings could be distributed through free channels. With a written clear policy, Lockn Festival undoubtedly contracted with the artists who consented through their concert riders.
This excellent recording was captured by Kubacheck with the same equipment and location from the Wilco recording from this Festival posted on this site three years ago. Enjoy!
Download the Complete Set [MP3] / [FLAC]
Stream "Runnin' Down A Dream":

Tom Petty and The Heartbreakers
2014-09-06
Lockn Festival
Arrington VA
Digital Master Audience Recording
Recorded at Taper's Section
MBHO 603a – KA-500 > Naiant Tinybox > Roland R-05 > 24bit 48kHz wav file > Soundforge (level adjustments, EQ, set fades) > CDWave 1.95 (tracking) > TLH > flac
(320 MP3 and tagging via Foobar)
Recorded by Kubacheck
Produced by nyctaper
Setlist:
[Total Time 1:43:21]
01 So You Want to Be a Rock N Roll Star [Byrds]
02 Mary Jane's Last Dance
03 American Dream Plan B
04 Into the Great Wide Open
05 Forgotten Man
06 [banter – happy birthday]
07 I Won't Back Down
08 Free Fallin
09 [band introductions]
10 A Woman in Love
11 U Get Me High
12 Rebels
13 Yer So Bad
14 Learning to Fly
15 Shadow People
16 I Should Have Known It
17 Refugee
18 Runnin Down a Dream
19 [encore break]
20 You Wreck Me
21 American Girl