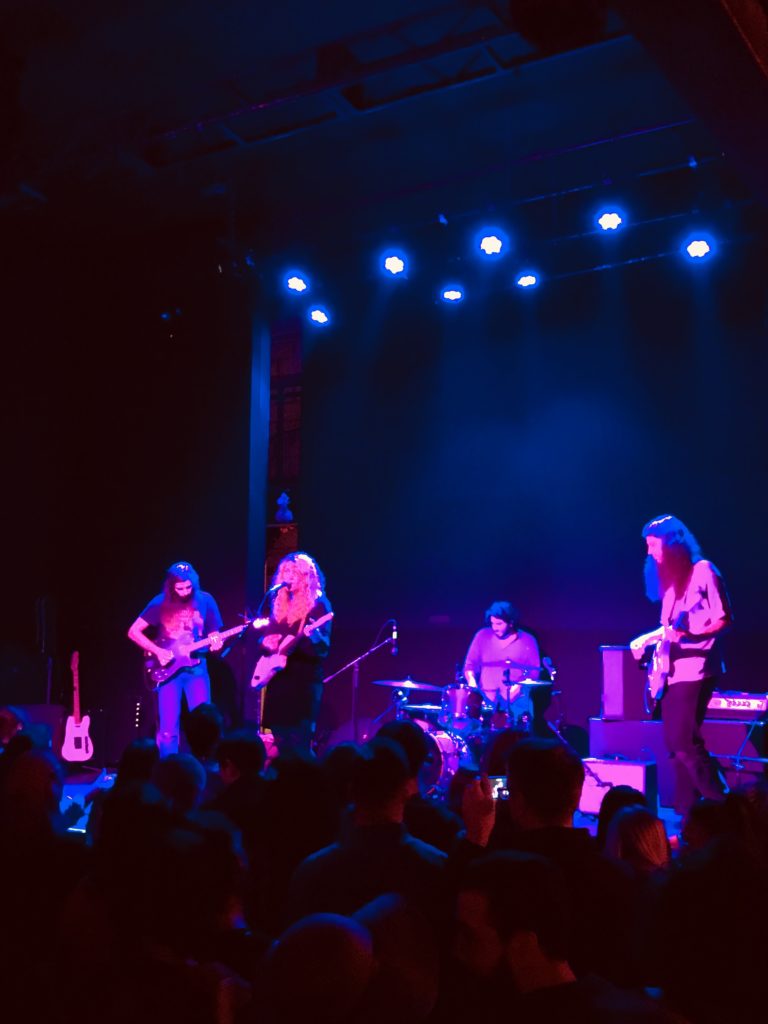 Widowspeak just released their fourth album, Expect the Best. It gave me a little jolt of nostalgia to see what's now by any definition a veteran band taking the stage in Brooklyn again, six years after I caught one of their earliest shows at Glasslands. It also gave me hope: Here's a band that has thrived from day one on the very simple proposition of writing good songs and performing them well, and continues to be well-received.
This show at Rough Trade marked the end of the band's recent tour in support of Expect the Best, and it had that triumphal homecoming feel about it, from the crowd of friends and showgoing regulars to the career-spanning setlist. After all, it's not like Widowspeak need to hunt around Brooklyn for converts. Expect the Best feels like a darker, slightly less pop-driven record than 2015's All Yours, as befits the times and singer Molly Hamilton's recent decamping to her home in the Pacific Northwest. Likewise, the new record also has more of a "live" sound to it, a bit looser than the band's recent efforts, and that also works to the advantage of these songs like, particularly the set opener, "Right On," which reminded us that despite the association of this band with more of a hazy, laid-back sound, they are more than capable of rocking out. As noted, the set also reached back to the band's first album for three of their best-loved numbers, the unforgettable "In the Pines," "Gun Shy" and Hamilton's Pacific Northwest in-joke "Harsh Realm." Hearing those songs played by a tightly-knit four-piece — a much fuller sound than the trio had back in 2011 — only reminded me again that some things do improve with time. Widowspeak are one of those bands that has not only stayed consistent, but keeps putting out great new music. That album title they chose this time says it all.
I recorded this set with a soundboard feed from house engineer Jeremy combined with Schoeps MK5 microphones. The sound quality is excellent. Enjoy!
Download the complete set: [MP3/FLAC/ALAC]

Widowspeak
2017-10-13
Rough Trade NYC
Brooklyn, NY USA
Exclusive download hosted at nyctaper.com
Recorded and produced by acidjack
Soundboard (engineer: Jeremy) + Schoeps MK5 (DFC, at SBD, PAS)>KC5>CMC6>>Sound Devices MixPre6 (24/48)>polyWAV file>Adobe
Audition CC (align, mix down, compression, limiter)>Izotope Ozone 5 (EQ, effects, image)>Audacity 2.0.5 (track, amplify,
dither, downsample)>FLAC ( level 8 )
Tracks [Total Time 1:13:35]
01 Right On
02 Perennials
03 Warmer
04 In the Pines
05 Narrows
06 All Yours
07 [banter1]
08 Ballad of the Golden Hour
09 The Dream
10 Expect the Best
11 Gun Shy
12 [banter2]
13 Dog
14 The Swamps
15 Harsh Realm
16 Fly On the Wall
17 [banter3]
18 Coke Bottle Green
PLEASE SUPPORT Widowspeak: Facebook | Captured Tracks | Bandcamp